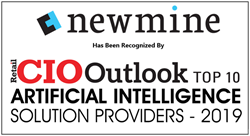 We believe the best return is one that never has to happen!
SOUTHBOROUGH, Mass. (PRWEB) February 26, 2019
Retail CIO Outlook has selected Newmine, a commerce consulting and software company based in Massachusetts, as a Top 10 Artificial Intelligence Solution Provider. Newmine's flagship software, Chief Returns Officer®, employs AI technology to help retailers manage and, more importantly, reduce their returns.
In 2018, around $400 billion worth of inventory was returned to retailers. Combine this with staggering restocking costs, and retailers are seeing their bottom lines deteriorate. Driving this phenomenon is the need for retailers to remain competitive by creating frictionless shopping experiences that offer a free returns policy.
Newmine's Chief Returns Officer® is an AI-powered platform that gives retailers a holistic view of integrated returns-related data from across the enterprise, prescribes actions, and enables collaboration. Chief Returns Officer® helps companies reduce return rates and improve EBITDA. "Even a 1% reduction in the return rate can bear fruitful results to retailers," advises Navjit Bhasin, Founder and CEO of Newmine.
Bhasin, speaking to Retail CIO, stresses that Artificial Intelligence is a key factor in making returns reduction possible: "AI significantly accelerates productivity, especially when it comes to the volume of data mining needed for returns reduction," he explains. "AI makes the humanly impossible, possible."
Newmine seeks to disrupt the returns management market with AI-driven returns reduction solutions. "We are pleased to be recognized by Retail CIO Outlook as the developer of the first and only returns reduction platform. Chief Returns Officer®'s AI technology allows real-time prescriptive insights and actionable recommendations—across an organization, to achieve real returns reduction. Newmine is committed to changing the way customers and retailers perceive returns."
http://www.newmine.com/retail-cio-outlook-names-newmine-as-top-10-ai-solution-provider
About Newmine (http://www.newmine.com)
Newmine was established in 2011 as a highly focused retail commerce optimization firm. Comprised of former retail and supply chain executives with deep experience in retail strategy, operations, and technology, Newmine's vision is to ensure retailers thrive in a transforming world.