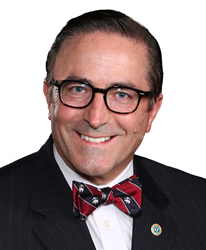 The old normal is not coming back. Some retailers have thrived and paid rent during this challenging time. Others haven't. As leases come up for renewal, landlords have to start planning for 2021, 2022 and beyond. They can only do so with verified sales data.
MANDEVILLE, La. (PRWEB) January 06, 2021
With holiday sales now being tabulated, retailers and their landlords are facing the next phase in the retail cycle as the health and economic calamity climaxes, then recovers: reassessing, renegotiating and renewing leases, many of which expire in January or February. But even as COVID-19 and the resulting economic crisis continue to resonate around the U.S., landlords should be cautious about offering short-term concessions and rent relief that will have negative longer-term consequences on their own survival, said Kenneth S. Lamy, founder and CEO of Mandeville, Louisiana-based The Lamy Group, a financial management consultancy firm that helps landlords quantify retailer sales for rent collection.
"This may seem like a complete about-face of the guidance I offered my landlord clients in mid-2020, as the pandemic raged and many retailers and restaurants were shuttered completely or had capacities reduced by as much as 75%," Lamy said. "Back then, landlords had to be part of the solution to keep tenants viable by offering rent abatements, deferrals and percentage-only deals for the near term."
In the April-May 2020 period, rent collections were between 40% to 50% of a retail landlord's gross rental billings, according to Lamy. Now they are between 80% and 90%, and even higher for grocery- and drugstore-anchored centers, which, by and large, weren't closed by government mandates.
"Fortunately, conditions will improve further in the late spring and summer months with the nationwide mass immunization program. Landlords will need to ensure their long-term rental income stream is adequate to service their debt and pay their real estate taxes and operating costs. What isn't changing is the need to make educated decisions by collecting, auditing and verifying sales data for complete transparency," he continued.
Landlords who are renegotiating leases should not rush into short-term arrangements that could reduce rents for years to come, especially without full knowledge about monthly sales, he said. Instead, landlords must carefully evaluate post-holiday sales data from tenants. The holiday season traditionally is when many retailers post about 25% of their annual sales, and up to 40% of their yearly profits, so landlords can't rely on news reports and inaccurately reported tenant sales when making decisions that affect property rental income for many years. Moreover, Lamy anticipates a slew of store closing announcements later in January and February and bankruptcy filings from retailers, restaurants and entertainment tenants that can't fulfill rent, restocking and occupancy cost obligations for the first quarter. Undoubtedly, rent relief requests will pour in as the U.S. experiences what scientists say will be a difficult winter period because of COVID-19 pandemic restrictions.
The renewal of government assistance programs including a second round of Paycheck Protection Program (PPP) forgivable loans (up to 40% of whose funds can be used for rent payment) will be a relief to retailers and their landlords. Also, as stimulus checks are distributed to consumers in January, the trickle effect for retailers offering discretionary goods and services poses a considerable benefit to retailers and their shopping center landlords that should forestall the need for most rent relief programs in the first quarter, Lamy observed. Landlords should verify that tenants have taken advantage of these programs before offering additional rental assistance.
"In their role as a commercial property fiduciary, whether it's as an owner or third-party manager, landlords can't just react out of fear," Lamy said. "They've survived the shockwave and help is available. Now it's their duty to position their properties for the future."
In addition, the introduction of vaccines to combat the novel coronavirus is finally offering hope that life and the economy may somewhat normalize later this year. But even as shoppers can more safely return to stores later in the year, their relationships with retailers — and as a result, retailers' negotiations with landlords — may be forever changed.
"The risk factors are much different from 12 months ago," Lamy observed. "Shoppers became much more comfortable with e-commerce sales, and likely will continue their new habit of buying online/picking up in store. They've also become accustomed to returning to stores items they've purchased online and had delivered to their homes. All of that must be taken into account as rents linked to the retailer's sales volume are being renegotiated."
Leases carefully spell out deductions and exclusions from sales, which then are used to determine percentage rent. For example, often-negotiated exclusions may include alteration income for a clothing store or lottery ticket sales for a supermarket. A common negotiated deduction may include bad debts written off by a tenant on a sale. But as e-commerce sales have skyrocketed during the pandemic, landlords need to pay closer attention to how their tenants are reporting sales for the purpose of calculating rent as a percentage of gross sales, noted Lamy, who has seen thousands of cases where tenants failed to report to their landlords accurately.
Going forward, leases must determine equitable ways of accommodating stores' new role as fulfillment centers for online sales, Lamy continued, crediting sales appropriately to the store rather than the retailer's web platform while applying the matching principle in accounting, which seeks to match expenses with related revenues for online purchases returned in-store. Items purchased online and returned in-store may be deducted from gross sales to calculate percentage rent only if that particular item was previously reported as a sale, for example as a buy-online-pick-up-in-store (BOPIS) transaction. Retailers and restaurants also must eliminate mistakenly deducting delivery service fees (such as DoorDash, Instacart, etc.) unless this type of deduction is allowed under the lease.
"The old normal is not coming back," Lamy said. "Some retailers have thrived and paid rent during this challenging time. Others haven't. As leases come up for renewal, landlords have to start planning for 2021, 2022 and beyond. They can only do so with verified sales data."
Fortunately, most leases requiring tenants to pay a percentage of sales as rent also provide auditing rights to landlords, who themselves have obligations to pay mortgages, real estate taxes and operating costs.
"Landlords must take advantage of those auditing privileges for a sampling of retailers in every category, but must certainly do so for those tenants they're renewing and for those who have requested rent relief," Lamy said. "Lease terms generally extend about five years for specialty tenants and even longer for restaurants. By collecting, analyzing and verifying sales data for the previous year or longer, landlords can craft leases that are equitable, optimistic and allow all parties to prosper long after COVID-19 is an unpleasant memory."