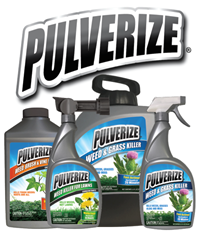 This Spring, Pulverize Weed & Grass Killers will be available nationwide at Walmart® and Menards® and in select Home Depot®, Target®, Whole Foods®, Ace Hardware®, True Value®, Meijer®, HEB® and thousands of local brick and mortar garden centers and hardware stores.
WASHINGTON, N.J. (PRWEB) January 14, 2020
Building on a successful product launch, Messinas' Pulverize® Weed & Grass Killers will be expanding its availability nationwide this year with listings in major retailers from coast to coast offering consumers an alternative to products like Monsanto's Roundup® and other products containing the highly publicized chemical active ingredient, glyphosate. Including chain wide roll outs at more than 4,000 Walmart® and Menards® locations, consumers will be able to find the Pulverize line of products at various Home Depot®, Target®, Whole Foods®, Ace Hardware®, True Value®, Meijer®, HEB® and thousands of local brick and mortar garden centers, hardware stores and online retailers including Amazon®.  
 
With more than twenty different products and six unique formulas for killing various weeds, grasses, brush and vines, including blackberry, kudzu and poison ivy, Pulverize products feature active ingredients found in nature, and formulas that are approved for organic gardening. These products offer effective, fast-acting solutions that enable consumers to see results quickly with alternative technology to the often maligned and litigated active ingredients currently offered by other brands.
 
"We launched Pulverize in 2016 because we could see the writing on the wall," said company founder James Messina. "Back then there were only rumblings about folks looking for alternatives to glyphosate and others, and before we sprung into action, no other brand was coming close to offering consumers a real, substantive story that conveyed the strength and effectiveness found in our award-winning Pulverize packaging. The fact that the best retailers in the country recognize what we're doing and are eager to support our market strategy is both validating for us and exciting for what it means to consumers. There is no denying that decision makers are serious about stepping up and telling consumers 'we hear your concerns regarding herbicide product safety, and we've found a great product in this space for you to put your confidence in.' Now it's up to us, as the first brand ambassadors of Pulverize, to get the consumer engaged and put Pulverize Weed & Grass Killers in their hands."
 
Messinas, branded as The Garden Company from the Garden State™ produces more than 100 different products under the brands Animal Stopper® Animal Repellents, Pulverize® Weed Killers, Seedlingers® Garden Products, Plotsaver® Agricultural Tools, Holiday Magic® and Aliagra™. Their products can be found in all 50 states and more than a dozen countries around the world. 
For additional information, please visit http://www.PULVERIZE.com