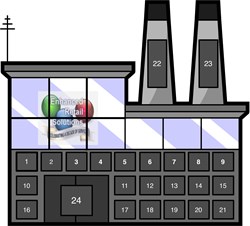 This leading Software-as-a-Service company and its inventory management experts are posting one data asset per day, each day in December.
New York, NY (PRWEB) December 04, 2013
From chief operating officers, to directors of business process, Enhanced Retail Solutions knows how important it is to provide information down the chain to achieve a successful retail analysis and demand planning work flow. That's why this leading Software-as-a-Service company and its inventory management experts are posting one data asset per day, throughout December, as a way to help them get through the hectic holidays season.
David Matsil, Director of Business Development states: "ERS wants to give back to the Supplier–Retailer community and this time of year is the perfect opportunity to do that. Due to this year's abbreviated number of holiday shopping days, professionals in the retail industry are really feeling the pinch. We'll be sharing links to our free content, as well as opening up the floor for questions online. We've been offering our software and consulting services to make their lives easier, and now we're using social media as well."
A few examples of these valuable pieces of information ERS will be sharing over their social media accounts include facts about:

Using Big Data tools to find opportunities and liabilities at each store of a retail chain.
How to Engage in post season analysis
How to Tie in 3rd party info to retail sales
How to Teach retail to the staff
The Essentials of Inventory Management
This campaign is designed to open up the door for analytics and implementation specialists to turn to ERS for guidance on navigating the fast-paced world of retail inventory management. ERS has a proven history of working with manufacturers, licensors and their retail partners to combine world class service with customized software solutions. Since 2002, ERS has seen a fundamental shift occurring between retailers and their vendor partners. They know that, in today's environment, retailers demand more from suppliers, particularly when it comes to management and financial accountability for merchandise programs. While this can be a very challenging prospect for suppliers, and providing industry know-how is a large part of their success.
About Enhanced Retail Solutions LLC:
Enhanced Retail Solutions is a New York based software and consulting firm specializing in retail analysis and Demand Planning for the manufacturer and their retail partners. ERS' state of the art software tools and consulting deliver critical data quickly, easily and cost effectively, adding over one hundred million dollars to their clients' bottom line. ERS' broad customer base includes industry leaders in the electronics, consumer products, apparel, footwear, home textile, toy, home décor, home improvement, housewares and food industries. For more information, visit http://www.EnhancedRetailSolutions.com.