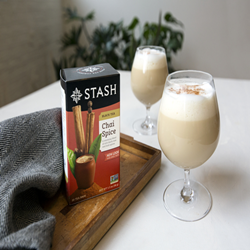 PORTLAND, Ore. (PRWEB) November 20, 2019
Stash Tea Company is bringing a different and exciting approach to your holiday cocktail cups this winter. The perfect excuse to invite everyone over for holiday teatime, Stash Tea is sharing bold, tea-infused cocktails to impress even the pickiest of party guests.
Regardless of what you're celebrating this year, these recipes are sure to be a hit. From a Maple Apple Cider hot toddy to a Chai Spice tea with honey and spiced rum, Stash is giving you four originally curated drink recipes that will spice up your holiday menu…literally!

Stash Tea Company embraces the uncommon and is changing the way consumers think about and enjoy tea. Earlier this fall, the B Corp company launched its latest campaign, "A Little Bag of Crazy," to celebrate being bold, with tea at the center of creative moments, innovation and inspiration. The brand aims to create new tea experiences and moments for people to enjoy tea, and Stash's tea-cocktail recipes do just exactly that.
About Stash Tea
Stash Tea was founded in Portland, Oregon in 1972 by two hippies seeking a tea euphoria. Since then, Stash Tea's mission has been to brew the boredom out of the world, with best-in-class ingredients and diverse flavors that delight the senses, surprise your taste buds, and brew up brighter and true-to-name.
Stash partners with farmers and suppliers who also believe that "doing it right" means more than just creating great tea; it's sourcing the best all-natural ingredients with you and the planet in mind. As a Certified B Corporation, Stash Tea is proud to be part of a movement of companies that believe in the power of using business as a force for good. Shop Stash teas at grocery stores throughout the United States and Canada and at Stashtea.com.