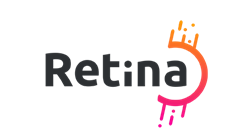 This journey is particularly exciting because of our integrated offerings across digital transformation, digital experience, data science, and demand and brand marketing. Our combined organization can truly deliver on end-to-end marketing.
SAN FRANCISCO (PRWEB) April 01, 2020
Award-winning global marketing agency, Retina, has formally merged with marketing technology consultancy and INC. 5000 company, Transiris. Effective immediately, the companies operate globally under the name Retina.
This merger creates the ability of a single company to deliver end-to-end marketing solutions for enterprise and mid-market clients around the world. These solutions include the industry's best in strategic thinking, creative and content together with deep digital technology personalization to power results for marketing, communications and technology teams.
Purpose Built for Challenging Times
Although the current unprecedented challenges of the coronavirus pandemic and COVID-19 could not have been wholly anticipated at the time, the recent merger has also further strengthened the organization's ability to deliver continuity of service to its clients. Retina's teams, tech infrastructure, consultative service model and corporate culture were purpose built for distributed and remote work, year-round, in any scenario.
The company's combined roster of clients includes the Bank of Montreal, Cisco, Flexport, Houlihan Lokey, HP Enterprise, IBM, ING, Stanford University, State University of New York, Thermo Fisher Scientific, US Dept. of State, and Vodafone.
The merger, registered on January 1st, 2020, creates a new executive structure, where Retina President and marketing industry veteran, Ted Kohnen, will assume the role of global CEO. Transiris founder and managing partner, Silvian Centiu, will lead market and service expansion including the company's strategic work in education and government marketing. Industry veterans Dragos Andrei and Simona Nan will continue their roles as CTO and COO, respectively.
Silvian Centiu notes, "We started Transiris around research at Stanford on the Industrialization of Communication. When the advanced digital marketing, deep personalization, and AI features we built into marketing platforms evolved beyond the general skills of corporate marketers, we knew we had to add creative and strategy services to our technology offerings to operate them. Ted and Retina bring to the combined company the outstanding creativity, insight, and strategy we need in order to continue to innovate and deliver top results to our clients."
Initial Collaboration
Executives from Transiris and Retina realized there was a significant opportunity when the two companies were selected by the US Department of State, after an extremely competitive review process, to develop a strategy for the image of the United States abroad. The ensuing 'Hearts of Europe' project, led by the US Ambassador to Austria, Trevor Traina, included ground-breaking research in the emerging field of Government Marketing and the development of new models and practices to adapt Corporate Marketing strategies, techniques, and principles to Government Communication and Public Diplomacy.
Growth and recognition
Combined, the companies hired 21 new employees in 2019 across five global offices – California, Glasgow, Vienna, Madrid and Bucharest. Retina was ranked the 4th fastest growing B2B marcomm agency in the US and a top 20 overall B2B marcom agency*. Transiris was included in the prestigious Entrepreneur 360 List and was listed as an INC 5000 Fastest Growing Company.*
The merger also brings the strength and assets of two rapidly growing companies together. In 2018, Transiris was selected to be a partner of the Scottish government, enabling it to attract talent from the country's strong culture of innovation and entrepreneurship.
Ted Kohnen, added: "The partnership with Silvian and the Transiris team, with their technical brilliance, has been a privilege for me. This journey is particularly exciting because of our integrated offerings across digital transformation, digital experience, data science, and demand and brand marketing. Our combined organization can truly deliver on end-to-end marketing."
Media Contact:
Sinziana Calin
Media Relations, Retina
Phone: 415.570.8468
Email: Sinziana.Calin@retinacommunications.com
http://www.retinacommunications.com
*Sources:
B2B Marketing Top Agencies Benchmark Report (2019), INC5000.com, Entrepreneur.com
###