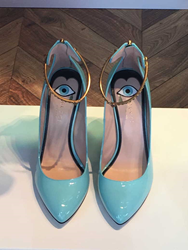 A dilated retina examination can detect diabetic retinopathy before vision loss begins. Treatments can stabilize or improve vision but yearly exams are recommended for early detection.
EAST ISLIP, N.Y. (PRWEB) October 17, 2018
The Retina Group of New York (RGONY) is proud to be a Corporate Sponsor of the Juvenile Diabetes Research Foundation (JDRF) ONE WALK® on Sunday, October 21, 2018 East Islip, Heckscher State Park, New York.
James M. Maisel, MD, a retinal specialist, CEO and Founder of the Retina Group of New York was honored as the JDRF Humanitarian of the Year at the 2017 Gala. According to Dr. Maisel "Over 10% of the American population is currently afflicted with diabetes and many more are undiagnosed or prediabetic. It is a chronic disease with many complications and accounts for a substantial portion of our healthcare costs. Funding is needed to do further research to prevent, delay, cure and mitigate diabetes and its complications. The Juvenile Diabetes Research Foundation (JDRF) is dedicated to finding a cure and we hope other physicians will help to support their efforts."
Dr. Maisel frequently lectures about diabetes and its effect on the eye. "Diabetes can affect the eye in many ways. Although extremely treatable, it remains one of the leading causes of blindness and blurred vision in adults. Diabetic eye disease often has no early warning symptoms or pain. When advanced, it can cause blurred vision, floaters or total visual loss, but don't wait until you notice problems with your vision. A dilated retina examination can detect diabetic retinopathy before vision loss begins. Healthy people need eye exams every three years and yearly after age 65. Diabetics should be evaluated yearly even without symptoms. While laser treatments at the proper time can prevent blindness for over 90% of patients, vitreous surgery can restore vision in others even with advanced complications such as vitreous hemorrhage or traditional retinal detachments. Blurred vision, that formerly was only slowed with focal laser treatment, can now be stabilized or improved in most patients with pharmacologic treatments administered in the office on a routine basis."
ABOUT JDRF
JDRF is the leading global organization funding type 1 diabetes (T1D) research. Founded more than 45 years ago by parents determined to find a cure for their children, today we exist for the millions of people affected by this disease. That's why we support the best researchers doing the most promising, cutting–edge science to cure, prevent and treat T1D.
Type 1 diabetes is an autoimmune disease that strikes children and adults suddenly. It has nothing to do with diet or lifestyle. You cannot prevent it—and there is currently no cure. If you have type 1 diabetes, you must constantly monitor your blood-sugar level, rely on injected or infused insulin and carefully monitor you're eating and activity. It's a serious and stressful disease to manage.
JDRF works every single day by amassing grassroots support, deep scientific and industry knowledge, and academic partnerships to fund research to create a world without type 1 diabetes. We've raised more than $2 billion to–date, and the life–changing breakthroughs we've help fund wouldn't be possible without the support of people like you.
Event Registration for ONE WALK®
By participating in JDRF One Walk®, your fundraising will help make living with T1D safer and healthier, until it is no longer a threat. You play an integral role in turning Type One into Type None. We look forward to walking with you toward the finish line—a cure for T1D.
JDRF One Walk has one goal: to create a world without type 1 diabetes (T1D). We know you want to make a cure a reality too—and we can't wait for you to join us!
Event Registration Link: JDRF One Walk® Registration https://www.jdrf.org/events-calendar/
LOCATION
Sunday, October 21, 2018 East Islip, Heckscher State Park, New York.
MAP
CONTACT
Darby Hall
(631) 768-3387
New York City/Long Island Chapter
532 Broadhollow Road
Suite 118
Melville, NY 11747
About the Retina Group of New York
The Retina Group of New York has provided tertiary retinal care to patients in Nassau and Suffolk Counties since 1986 at its offices in Hicksville and Hauppauge. Both locations are fully equipped with in-office laser capabilities, cutting edge diagnostic imaging, and integrated electronic records. The group holds staff privileges at seven area hospitals and teaching appointments at the Hofstra North Shore-LIJ School of Medicine, North Shore University Hospital, and Nassau University Medical Center. The practice is limited to medical and surgical retinal problems. These commonly include diabetic retinopathy, macular degeneration, retinal vein occlusion, retinal detachment, macula pucker, macula hole, cataract surgery complications, uveitis, Plaquenil toxicity and second opinions.
The group, led by CEO and founder James Maisel, MD, consists of Board-Certified Ophthalmologists who have additional Fellowship Training from top institutions including New York Presbyterian-Cornell Medical Center. They are complemented by specialized ophthalmic certified RNs, Health Information Management Specialists and Ophthalmic Technicians. The Retina Group of New York utilizes state-of-the-art diagnostic equipment and offers in office laser treatment for diabetic retinopathy and treatment for diabetic macular edema with intravitreal medications including Eylea®, Lucentis®, Ozurdex® and Iluvien®. Members of the group serve on the medical advisory boards of Regeneron, Allergan, Genentech and Alimera keeping abreast of the latest treatments and lecture around the country to other retina specialists about diabetic retinopathy. Dr. Maisel's software company, ZyDoc Medical Transcription was a finalist in the Sanofi 2013 Data Design Diabetes Innovation Challenge – Prove It! He was honored as Humanitarian of the Year at the 2017 JDRF Gala. He is an editor for the Journal of Diabetes Science and Technology, Section on Big Data and Diabetes. He Co-Chaired the 5th World Diabetes Congress in Prague in 2017 and presented on "Using NLP to Identify and Manage Patient Populations at Risk for Diabetes and Complications" and "Ocular Complications of Diabetes Mellitus and Laser, Surgery and Pharmacologic Treatment for Diabetic Retinopathy."
For more information about diabetic retinopathy, contact the Retina Group of New York at http://www.rgony.com or visit them at:
Retina Group of New York Long Island Offices
400 S. Oyster Bay Road
Hicksville, NY 11801
516-939-6100
1455 Veterans Memorial Highway
Hauppauge, NY 11788
631-273-1818