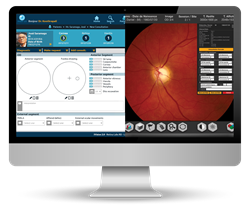 During this COVID-19 pandemic, Retina Labs e-consultation platform helps to ensure continuity of eye care.
NEW YORK (PRWEB) April 15, 2020
In response to the COVID-19 pandemic, Retina Labs has announced its latest in teleophthalmology innovation with the introduction of a telemedicine-based e-consultation platform specially designed for eye health.
Retina Labs cloud-based teleconsultation platform enables optometrists, ophthalmologists and primary care providers to collaborate virtually on eye health cases. This reduces the need for unnecessary face-to-face referral visits, improves turn-around time for diagnoses, helps providers collaborate better and keeps track of patient progress.
The system allows any referring health professional to send an electronic consultation request to an eye care provider or ophthalmologist specialist for a diagnostic confirmation or even a second opinion. The referring health professional simply creates an online consultation request describing the case, uploads any fundus or anterior segment images or an OCT report, annotates the OD/OS eye sketch canvass if necessary, and sends it to the appropriate eye care provider in their network. The consulting eye care provider is notified immediately. They can review the case, examine the images in the system's diagnostic viewer and respond promptly with a structured clinical diagnosis and care plan recommendation. The teleconsultation system also allows providers to collaborate on cases that involve on-going monitoring.
"Telemedicine and virtual care have quickly become important tools during this COVID-19 pandemic, especially for rural and remote communities," says Richard Pridham, President & CEO of Retina Labs. "However, there are currently very few telemedicine-based tools that are optimally designed for day-to-day eye care. Retina Labs teleconsultation platform offers remote ophthalmic assessment and monitoring capabilities to facilitate patient care while reducing patient and provider exposure to COVID-19 during this pandemic."
About Retina Labs
For over a decade, Retina Labs has been a teleophthalmology leader and innovator offering solutions for early detection of diabetic retinopathy and other ocular diseases. The company's cloud-based teleretinal screening platform offers an integrated workflow-based solution that combines advanced ocular imaging, clinical interpretation and diagnostic reporting. Retina Labs offers clinic-based and mobile preventive screening programs for primary care practices, health systems and health plans. The company's approach improves clinical outcomes and lowers health costs through better disease detection and care management.