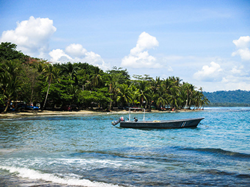 In the right spots abroad, a high-end lifestyle (with perks like a housekeeper or gardener) costs way, way less than it would at home.
BALTIMORE (PRWEB) February 26, 2019
"In the States today, it's a tiny percentage of the population that can afford luxuries like a housekeeper, a gardener, or a country-club membership," says Jennifer Stevens, Executive Editor, International Living. "A retirement with an ocean view? Most folks assume that sort of lifestyle is way above their pay grade.
"But that's not necessarily the case. In the right spots abroad, a high-end lifestyle (with perks like a housekeeper or gardener) costs way, way less than it would at home. The truth is: In the right spots, you don't have to be a millionaire to live well. You can do it in the Caribbean and in Europe, in fact."
International Living's new report looks at surprising spots overseas where expats can upgrade their retirement lifestyle—and enjoy a high-end quality of life—on $30,000 a year, or less.
Volterra, Italy
Volterra is one of Tuscany's best-preserved and most historic towns, with a past dating back more than 2,500 years. The Twilight movies were filmed around the town's piazzas and streets, representing the seat of power of the vampire coven, the Vulturi.
Despite its location just 20 miles from the super-famous San Gimignano, Volterra gets just a trickle of tourists.
"Called the City of Alabaster, artisans have been mining and crafting the stone in Volterra since the Etruscans and have honed it to a fine art form," says Valerie Schneider, IL Italy Correspondent. "It is also consistently listed among the most beautiful towns in Tuscany.
"Volterra offers a wealth of historic and archeological sites, from an Etruscan acropolis and walls, to the Roman theater and medieval monuments. The Piazza dei Priori is one of Italy's prettiest squares containing the oldest town hall in Tuscany, dating to 1208. The piazza is hemmed in by frescoed palaces and is an enchanting public space.
"Most of Tuscany is expensive, but Volterra is still one of the exceptions. Despite having a high quality of life, pleasant atmosphere, and lots of local business activity, the real estate prices aren't through the roof."
A couple can live well on $1,715 a month, or $20,580 a year.
Puerto Viejo, Costa Rica
White-sand beaches, clear turquoise water filled with tropical fish, palm trees swaying in the breeze, a laidback vibe—Costa Rica's little-known Caribbean coast is the ultimate tropical paradise.
The Caribbean coast's heart is the little town of Puerto Viejo de Talamanca—a great place for retirees looking for a slow-paced life in a beautiful setting.
The year-round warm weather on Costa Rica's Caribbean coast lends itself to outdoor activities like snorkeling, surfing, and more.
Puerto Viejo offers a low cost of living thanks to lower rent, property taxes, food costs (especially if expats stick with locally grown products), and the availability of a low-cost public healthcare system.
"That said, cost of living is very dependent on lifestyle," says Jason Holland, IL Roving Latin America Editor.
"Thanks to the influence of tourism, there are plenty of opportunities to dine at Italian and Argentinian restaurants, as well as French cafes that cost considerably more than local options. And local supermarkets stock plenty of imported items."
Still, a couple can live the good life in Puerto Viejo de Talamanca on $2,025 a month, or $24,300 a year.
Lagos, Portugal
For expats looking to live near the ocean, Lagos, a town in southern Portugal's Algarve region, is an ideal choice. A pleasant climate, beautiful natural surroundings, an abundance of dining and party venues, and easily available transportation make Lagos perfectly suited for retirement.
It's easy to get around Lagos on foot—much of the city is fairly flat, especially around the marina. And it's easy to get to—Faro with its International Airport, is just one hour from Lagos.
The town is blessed with a year-round moderate climate, with average temperatures ranging from 52 F in winter to 75 F in the summertime, when the normal average population of 22,000 swells with visitors from Europe and elsewhere.
Despite the tourist-oriented nature of Lagos, particularly during the peak season of July and August, prices are not as high as you might think. A budget for two people runs to $2,080 or $24,960 a year.
Akumal, Mexico
"The varied shades of blues, aquamarine, and turquoise blend and swirl together as the clear tropical waters of the Caribbean Sea gently bathe the sugar-sand beach," says Don Murray, IL Riviera Maya Correspondent. "This is the small community of Akumal in the Mexican state of Quintana Roo and for those who call it home, there is no better place to be."
Mexico's famed Riviera Maya stretches from Cancun in the north, 80 miles south to Tulúm. Akumal (Mayan for Land of the Turtles) rests between Playa del Carmen and Tulúm. Famously known for its spectacular clear bay filled with sea turtles, Akumal has matured from a secretive destination for divers to a growing tourist hotspot.
"Until the last few years, this tiny beachfront town was often a day trip for a small number of vacationers in Cancun and Playa del Carmen," Don says. "Notably, these day-trippers were often those who had heard of the amazing diving and snorkeling in the clear, shallow bay, permitting close encounters with the many sea turtles who call this special place home.
"Akumal is no longer just a day trip but is emerging as a primary destination. The town—and the entire Riviera Maya—attract those who love the water and water activities, as well as people who love wiggling their toes in the sand and sipping a tall, cold rum drink with skewered fruit hanging from the edge.
"In general, Mexico offers a significantly reduced cost of living when compared to the U.S., and Akumal falls in line with that expectation. However, Akumal is a growing tropical town on the Caribbean Sea and that profile is not available anywhere in the U.S. That said, life in Akumal is affordable and provides excellent value for money."
A couple can live a dreamy Caribbean lifestyle in Akumal on a budget of $2,240 a month, or $26,880 a year.
Volcán, Panama
Volcán is a town set in the highlands of the Chiriquí province, in western Panama, shadowed by Panama's only volcano, Volcán Baru. Most people visiting the Chiriquí province probably won't have heard of Volcán, but that is exactly what has kept this part of the province so special and unchanged.
The sprawling town of Volcán is the hub of the farming community in the valley, with a population of around 14,000 people. Volcán is a healthy and affordable place to live, ideal for those looking for a quiet, slow-paced country lifestyle, within easy reach of a city and a beach.
It's the perfect spot for nature lovers—Volcán Baru National Park and La Amistad Park are close by offering hiking trails into the protected forests and jungles. Due to its rich volcanic soil, Volcán is deemed the "breadbasket of Panama" producing most of the country's vegetables and most of the flowers and bouquets enjoyed by Panamanians all over the country.
The lifestyle is relaxed—a place where most expats enjoy social interaction by visiting friends and going to local expat hangouts on weekends. However, living in Volcán will require you to know some Spanish to be able to communicate with the locals and do business.
A couple can live an enjoyable, peaceful escape on a monthly budget of $1,514—$18,168 a year.
Medellín, Colombia
Tucked into a valley surrounded by the Andes Mountains lies Colombia´s second largest city, Medellín. The City of Flowers enjoys a spring-like climate year-round, which attracts retirees looking for an active, outdoorsy lifestyle with all the benefits of a city.
Accentuated with green parks, flowers that are always in bloom, bubbling streams, and hundreds of birds in vivid colors—Medellín feels smaller than the metropolis that it is.
With over 30 universities, an array of art and history museums, theaters, restaurants, and several sports complexes, Medellín has a cosmopolitan vibe. The Metropolitan Theater presents a varied program of international classical music, jazz music, and dance performances. The Museo de Antioquia, located just off the Parque Berrio Metro stop, is home to a large collection of paintings and sculptures by Medellín native, Fernando Botero.
The cost of living depends on the type of lifestyle retirees choose, but Medellín is less expensive than many comparable U.S. cities.
A couple could live well on a budget from $1,400 to $2,000 per month—$16,800 to $24,000 a year.
Placencia, Belize
With 16 miles of beach along a palm-lined peninsula, Placencia on the Caribbean coast of Belize offers a tropical paradise feel at an affordable price.
Placencia is a charming seaside town found at the tip of a long peninsula off the coast of mainland Belize. It's fast becoming Belize's most desirable location as it fronts the turquoise Caribbean Sea to the east and a resplendent freshwater lagoon, full of wildlife and with a view of the gorgeous Maya mountain chain, to the west.
The region was once an "off-the-radar" destination but Placencia has come a long way. Remnants of this former fishing village are still apparent—keeping the authenticity and natural beauty of the area is important to residents and newcomers alike—but today there's a selection of trendy, sophisticated restaurants, bars, and cafés as well.
The combination of relaxation with adventure makes Placencia a perfect beach paradise. A couple can live a laidback lifestyle here on a budget of just $2,500 a month—$30,000 a year.
The full report can be found here: Best Places to Retire on $30,000 a Year.
Editor's Note: Members of the media have permission to republish the article linked above once credit is given to Internationalliving.com
Further information, as well as interviews with expert authors for radio, TV or print, is available on request. Photos are also available.
For information about InternationalLiving.com content republishing, source material or to book an interview with one of our experts, contact PR Managing Editor, Marita Kelly, +001 667 312 3532, mkelly(at)internationalliving.com
Twitter: @inliving
Facebook: https://www.facebook.com/International.Living/
About International Living
Since 1979, Internationaliving.com has been the leading authority for anyone looking for global retirement or relocation opportunities. Through its monthly magazine and related e-letters, extensive website, podcasts, online bookstore, and events held around the world, InternationalLiving.com provides information and services to help its readers live better, travel farther, have more fun, save more money, and find better business opportunities when they expand their world beyond their own shores. InternationalLiving.com has more than 200 correspondents traveling the globe, investigating the best opportunities for travel, retirement, real estate, and investment.