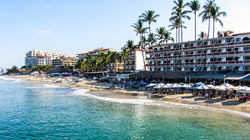 If you've had it with the cold in the States, you could—on a very modest budget—winter over at the beach every year.
BALTIMORE (PRWEB) February 23, 2021
International Living has curated a list of 75 towns and cities around the world that are good-value escapes worth retirees' attention if they're looking for places to live large for less. All are located in countries that make IL's Annual Global Retirement Index.
From that list of noteworthy communities, the editors have highlighted five key beach towns—spots where a retired couple could live well for under $30,000 a year (housing costs included).
"In the best-value beach towns overseas, you can slash your cost of living, but at the same time, step up into a more lavish retirement," says Jennifer Stevens, Executive Editor of International Living. "On a budget that would see you pinching pennies at home, you could live very comfortably, enjoy sun and sand and have plenty of funds left for things like eating out and travel.
"For the sake of example, take Puerto Vallarta, Mexico. For around $1,000 a month, you could rent a very nice, furnished two-bedroom apartment right in the heart of the old town, a quick walk to the beach and right near shopping and restaurants—so no car necessary. Beyond that housing expense, about $1,000 more would comfortably cover the rest of a couple's monthly expenses.
"Now, the average retiree household in the United States spends about $4,185 per month, according to the US Bureau of Labor Statistics. So on about half of that, you could live well in one of the beach towns we've highlighted abroad in Belize, Panama, and Mexico.
"The same math works for a part-time escape. So if you've had it with the cold in the States, you could—on a very modest budget—winter over at the beach every year. With the way things are going, you might well spend less enjoying life in the sun and sand than you would on utilities alone back home."
Here are five beach towns International Living recommends, which are currently accepting American travelers:
Placencia is a charming little seaside town found at the tip of a peninsula off the coast of mainland Belize. It's fast becoming Belize's most desirable location as it fronts the gorgeous Caribbean Sea to the east and a resplendent freshwater lagoon, full of wildlife and with a view of the gorgeous Maya mountain chain, to the west.
The Placencia Peninsula, a 16-mile spit of land that parallels the mainland, offers scenery of vivid blue waters and pure white sandy beaches. This one-time fishing village offers excellent fishing as well as diving, snorkeling, and boating. Pristine sailboats glide through the turquoise waters alongside local fishing boats. Fresh seafood is available year-round, as are healthy fruits and vegetables.
Here, a couple can live well on a monthly budget of $2,435.
The town of Pedasi has been discovered by expats and the secret is out. Pedasi is on the tip of the Azuero Peninsula in the province of Los Santos on the Pacific Ocean. It's a five-hour trip from Panama City.
As a small sleepy village with a full-time population of around 2,500, Pedasi is rural living at its best. The village is surrounded by green pastures and grazing cattle. Village center is only a five-minute drive to the Pacific Ocean and three spectacular unspoiled beaches and little development. 
A couple can live here on as little as $1,365 a month. However, having a car and living closer to the beach significantly increase your costs.
Puerto Vallarta has been an expat haven for over 70 years. During its early years, the city's main business was exporting agricultural products grown in the rich farmlands of the state of Jalisco and the surrounding area. Today Puerto Vallarta has become one of Mexico's biggest tourist destinations, a city that draws property shoppers, fun-seekers, and investors. You have a large international airport with plenty of direct flights from multiple cities in Canada and the U.S. That makes it easy to make trips back to your hometown or to welcome visitors to your new home.
Puerto Vallarta has a vibrant culture that will stimulate your senses. You can hear and smell the food sizzling from local food vendors…feel the smooth texture of the multicolored bead arrangements sold by the Huichol people from the western Sierra Madres…see the 11 majestic sculptures from all across the world poised on a mile-and-a-half stretch along the malecón. The bronzed sculptures, contrasting with the soft powder-blue of the ocean, are a must-see for art lovers.
Here, a couple can live well on a monthly budget of $2,049.
Caye Caulker is quintessential Caribbean, a rare find these days. The island's lifestyle is simple, laidback, and close to the sea. It's a desirable spot for expats who enjoy outdoor activities, especially those that are water related. The gorgeous setting provides abundant inspiration for artists, photographers, and writers, as well as those who appreciate nature at its finest.
With less than 2,000 residents, Caye Caulker is still small. There's room to move, with little to no traffic. But the island now has many of the amenities North Americans demand.
Most expats who live on the island regularly walk the beach, ride their bikes, and swim in the crystal clear, turquoise sea. There are no cars or trucks, and few golf carts. So the environment is peaceful and slow paced. A favorite pastime of many is to lay in a hammock with a good book, or to indulge in an afternoon catnap.
The cost of living on Caye Caulker is surprisingly affordable for a popular Caribbean island. Most expats can live comfortably on this island for $1,500 to $2,000 a month. 
Located an hour from Panama City, it is on the 'Arco Seco' ('dry arch') stretch of coastline, so named because of the remarkably low rainfall it receives each year.
For years Coronado has been a getaway for Panamanians in need of a sun-soaked, beach break but recently it has flourished thanks to a thriving expat community that is growing here all the time.
Coronado is one of the more developed beach resorts along the Pacific coast. It caters for most First World needs and those living here can still enjoy many—if not all—the conveniences of life back home…except at a reduced price.
Often regarded as the epicenter of beach life in Panama, property here is affordable and infrastructure is already in place.
Most of the expats you'll speak to (whether single or living with a partner) budget around $2,500 a month here. However, it is possible to live for less depending on your lifestyle.
More information on 75 of the best towns and cities for retirement around the world in 2021 can be found, here: The World's Best Towns and Cities for a Low-Cost Retirement.
Editor's Note: Members of the media have permission to republish the article linked above once credit is given to Internationalliving.com.
Further information, as well as interviews with expert authors for radio, TV or print, is available on request. Photos are also available.
For information about InternationalLiving.com content republishing, source material or to book an interview with one of our experts, contact Editorial Director for Web Content, Social Media, and PR, Donal Lucey, dlucey@internationalliving.com.
Instagram: https://www.instagram.com/internationalliving/
Twitter: @inliving — https://twitter.com/inliving?lang=en
Facebook: https://www.facebook.com/International.Living/
About International Living
Since 1979, InternationalLiving.com has been the leading authority for anyone looking for global retirement or relocation opportunities. Through its monthly magazine and related e-letters, extensive website, podcasts, online bookstore, and events held around the world, InternationalLiving.com provides information and services to help its readers live better, travel farther, have more fun, save more money, and find better business opportunities when they expand their world beyond their own shores. InternationalLiving.com has more than 200 contributors traveling the globe, investigating the best opportunities for travel, retirement, real estate, and investment.