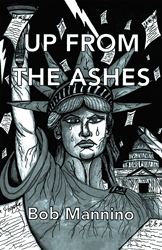 PHILADELPHIA (PRWEB) October 22, 2018
A retired U.S. Army Lieutenant Colonel has released his compelling political novel that mirrors the present state of affairs in the U.S. government and provides a thought-provoking examination of democracy's destruction through the eyes of an eclectic cast of characters who, ultimately, serve as an allegory for what could become of the nation should the currently unbalanced system continue to go unchecked.
In "Up from the Ashes," author Bob Mannino, who understands the interplay between history and politics, delves deeply into the root cause of the disintegration of American freedoms, illustrating how the media, judges and universities – once the protectors of American rights and liberties – have reinforced the system's failures through their perpetuation of political correctness.
"The media has ceased to be an umpire calling impartial balls and strikes," Mannino said. "They are now the chief purveyor and leading protector of political correctness. Political correctness is the ideological soul mate and political half-brother of communism. Now, it is up to individuals to take the fight for freedom upon themselves."
Likening political correctness to dictator-enforced ideologies, "Up from the Ashes" demonstrates current societal breakdowns through a fictional narrative, reflects on how once-strong pillars of the American democracy have begun to consistently fail average U.S. citizens and provides a once considered moderate viewpoint on important hot-button issues like healthcare and religious freedom.
"Up from the Ashes"
By Bob Mannino
ISBN: 978-1-4917-5868-7 (paperback); 978-1-4917-5869-4 (electronic)
Available through iUniverse and Amazon
About the author
Bob Mannino is a retired U.S. Army Lieutenant Colonel who worked for a little over 10 years as a covert agent against the Soviet KGB and GRU. Following his retirement from the military, Mannino worked a little over three years for defense contractors in Saudi Arabia. Mannino holds a bachelor's degree in political science from Temple University and, upon returning to the U.S. from Saudi Arabia, he volunteered to work for political parties to learn about how politics are conducted at the ground level. He currently resides in Philadelphia.
###
General Inquiries, Review Copies & Interview Requests:
LAVIDGE – Phoenix
480-648-7557
dgrobmeier@lavidge.com