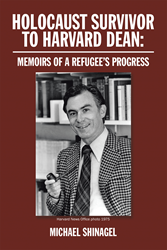 This memoir is in my voice, and what I relate is what I want to share with people who may be interested to know who I am. It has been an eventful life, and it tells a story. But the story still awaits 'a sense of an ending.'
CAMBRIDGE, Mass. (PRWEB) October 15, 2018
The longest-serving dean in the history of Harvard University has published his inspiring true story that chronicles his real-life experiences immigrating to the U.S. with his family as a Jewish refugee from Vienna at the onset of the Holocaust.
In "Holocaust Survivor to Harvard Dean: Memoirs of a Refugee's Progress," author Michael Shinagel reflects on his childhood memories of growing up in New York and recalls the uncertainty of his early adult years, the growth he underwent during his service in the U.S. Army, his experiences becoming a husband and father and, ultimately, the successful career he fostered in academia over the course of 50 years.
"This memoir is in my voice, and what I relate is what I want to share with people who may be interested to know who I am," Shinagel wrote. "It has been an eventful life, and it tells a story. But the story still awaits 'a sense of an ending.'"
"Interesting, moving, and intellectual memoir of a Holocaust survivor and his many academic and educational accomplishments," a reader wrote in a five-star review of the book on Amazon. "Continuing education is so necessary in our life today – whether in person or online. He was a major contributor for the long haul – 50 years. The read is a good one!"
A touching journey about odds-defying perseverance and achievement, "Holocaust Survivor to Harvard Dean" delivers an intimate glimpse into the strength and determination of the human spirit in the face of profound tragedy and illustrates the author's deep, life-long passion for learning.
"Holocaust Survivor to Harvard Dean: Memoirs of a Refugee's Progress"
By Michael Shinagel
ISBN: 978-1-5245-0961-3 (hardback); 978-1-5245-0960-6 (paperback); 978-1-5245-0959-0 (electronic)
Available through Xlibris, Barnes & Noble and Amazon
About the author
Michael Shinagel was the dean of the Division of Continuing Education and University Extension at Harvard University from 1975 to 2013, and upon his retirement, he was acknowledged as the longest-serving dean in the institution's prestigious history and as one of the transformative leaders of the university. A renowned figure in the higher education field, Shinagel's academic career spanned 50 years and, in addition to his time at Harvard, included posts at Cornell University and Union College. Shinagel served in the U.S. Army from 1952 to 1954 and completed his undergraduate studies in English at Oberlin College and his master's and doctorate degrees in English literature at Harvard. Since retiring, Shinagel continues to serve as a distinguished lecturer in Extension at Harvard, teaching graduate seminars on satire and the English and American novel, directing Extension master's theses in literature and teaching professional development workshops on leadership and decision-making in the Division of Continuing Education. A trailer for "Holocaust Survivor to Harvard Dean" can be viewed here.
General Inquiries, Review Copies & Interview Requests:
LAVIDGE – Phoenix
Danielle Grobmeier
480-648-7557
dgrobmeier(at)lavidge(dot)com