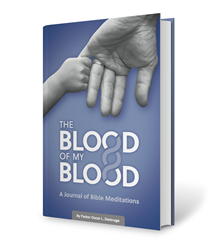 "By feeding daily on God's affirming and loving statements found throughout the Bible and this journal, we can come out of our depressions and take our place in society with gratitude and humility."
NORWALK, Conn. (PRWEB) February 07, 2023
Even in precarious and turbulent times when politics, war, and the uncertainty of the future are on people's minds, God is always here for us if we open our hearts and minds to His word.
Oscar Destruge, a retired senior pastor at El Camino United Methodist Church in Norwalk, Connecticut, shares that positive message through his book "The Blood of My Blood, A Journal of Bible Meditations."
To help people rediscover the joy and purpose of living and sharing God's abundant love, Destruge shares with readers daily Bible meditations that include daily assigned Bible readings, his explanations and applications of those texts, and insights into his personal and family life.
"I wrote this book to be a positive reminder to friends, readers, family, and future generations that we all go through periods of depression, questioning life itself," he said. "But, no matter our past or what we feel about ourselves, or our doubts and fears, we must realize that we are of great value to God and our family. By feeding daily on God's affirming and loving statements found throughout the Bible and this journal, we can come out of our depressions and take our place in society with gratitude and humility."
With his book, Destruge also addresses what he described as "the great lie" imposed on many people—the misguided distrust of God, the Bible, and "organized religion."
"They've believed the great lie that God doesn't exist, God doesn't care about them, and God is distant," he said. "In addition, many know about God, but fewer know or have personally experienced God's "agape" love. According to Britannica, agape refers to 'the fatherly love of God for humans, as well as the reciprocal human love for God.' Without God's love, protection and guidance, we're easy prey to the enemy's lies, leading to isolation, low self-esteem, depression, and suicidal thoughts."
Speaking of his experience as a pastor, Destruge wants readers to take away four Bible-based main points:

You are loved. Nothing in your past or present can prevent God from forgiving and receiving you back into His family.
God is with you. God is and has been with you at all times, and you will be able to look back at your most difficult moments, and realize that God carried you through.
The best is yet to come. Nothing in this world compares to the joy and peace that awaits us in heaven. Knowing the best awaits will give you the strength and courage to endure today's trials.
The Bible is God's trustworthy guide to lead you home. The Bible says: "All Scripture is inspired by God and useful to teach, to reprove, to correct, to instruct in righteousness, so that the servant of God may be perfect, equipped for every good work" (2 Timothy 3:16-17).
"I could be wrong in placing my trust in God's Word, but if I'm going to be wrong, I'd rather be on the side of the One who inspires followers to be at peace with everyone, to love the unlovable, to help the needy and weak, to seek first God's Kingdom and His righteousness," he said. "My life is completely different than it was 33 years ago before I placed my faith in God and the Bible. Then, I was on the verge of suicide, with months of sleepless nights, afraid of what might happen. I've found nothing but peace, guidance, forgiveness, and reconciliation with God and my loved ones. There's no other trusted guide for me besides God's Holy Word.
"The Blood of My Blood, A Journal of Bible Meditations" is available on Amazon.
About the Book:
"The Blood of My Blood, A Journal of Bible Meditations" by Oscar Destruge is a collection of Daily Bible Meditations derived from the common lectionary, which includes the assigned Bible reading for that day and Pastor Oscar's explanation and application of that text. Destruge is a retired senior pastor at El Camino United Methodist Church in Norwalk, Connecticut.
The book invites the reader to learn about Pastor Oscar's life and family and contains beautiful travel pictures. Each daily meditation takes about four minutes to read and ends with a prayer. There are indexes by Scripture and keywords.
Pastor Oscar's goal for readers is for them to strengthen their faith and walk with God and to encourage them into a routine of spending four minutes daily with God's Word to help them discover God, who they are, and what is their God-given purpose in life. Lastly, he wants them to develop the courage to face challenges knowing that God is with them and that no matter the obstacles, they will have victory. For more information, visit https://www.pastoroscardestruge.com/. ###