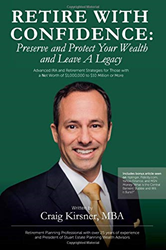 COCONUT CREEK, Fla. (PRWEB) August 14, 2018
Retirement planning professional and investment advisor representative Craig Kirsner, MBA has just released his new book entitled Retire with Confidence: Preserve and Protect Your Wealth and Leave a Legacy. It contains valuable retirement, investment, and estate planning strategies and specifically acts as a guide for individuals with a net worth of $1 million to $10 Million or more.
Retire with Confidence covers an assortment of retirement planning topics, including dynasty trust planning, asset diversification, fees, IRA tax-saving strategies, revenue sharing, long-term care options, and many other wealth preservation tactics. It also includes a bonus article penned by Kirsner headlined "What is the Central Bankers' Bubble and Will it Burst?" featured on Kiplinger, Yahoo Finance, MSN Money, and Fidelity.com, this piece offers a frank risk assessment and additional ways for retirees to protect themselves.
One chapter in the book comes from Jack Owen Jr., an estate planning attorney and CPA. Entitled "Protecting the Assets You Leave Your Family," it discusses ways to protect your family wealth from things such as divorces, creditor claims, and lawsuits – as well as explains novel ways to ensure that the assets in an estate always remain in the family bloodline.
Retire with Confidence also features an introduction by Stuart Kirsner, the founder of Stuart Estate Planning and Craig's father. The elder Kirsner has more than 46 years of experience as a family legacy planner and licensed insurance and annuity agent.
For more information on this book or Craig Kirsner, MBA come to one of our upcoming dinner workshops at Ruth's Chris or Abe & Louie's steakhouse in Boca Raton or Fort Lauderdale, Florida by calling Stuart Estate Planning Wealth Advisors at 1-800-807-5558 or send an email to assist@stuartplanning.com.
You can buy the book on Amazon here: https://www.amazon.com/Retire-Confidence-Preserve-Retirement-Strategies/dp/1724618202/
About Craig Kirsner, MBA
Craig Kirsner, MBA, is a nationally-recognized Author, Speaker and Retirement Planner, whom you may have seen on Kiplinger, CBS, ABC, NBC, Fox, Fidelity.com, MSN Money, Yahoo Finance. He has an MBA in finance from the Chapman School of Business at Florida International University. A retirement planner and licensed insurance agent, he shows clients how to preserve, protect and pass on their wealth for over 25 years. He is committed to offering his clients guidance to help them meet their retirement and financial goals.
About Stuart Estate Planning Wealth Advisors
Headquartered in Coconut Creek, FL, Stuart Estate Planning Wealth Advisors provides strategies designed to help clients retire with financial confidence in a changing and uncertain world. Craig achieves this goal with a thorough evaluation of a client's portfolio, including an assessment of the level of risk and diversification and fees, followed by the creation of a customized investment strategy and dynasty estate plan with an attorney.
Investment advisory services offered only by duly registered individuals through AE Wealth Management, LLC (AEWM). AEWM and Stuart Estate Planning Wealth Advisors are not affiliated companies. Stuart Estate Planning Wealth Advisors is an independent financial services firm that creates retirement strategies using a variety of investment and insurance products. Neither the firm nor its representatives may give tax or legal advice. Investing involves risk, including the potential loss of principal. No investment strategy can guarantee a profit or protect against loss in periods of declining values. Any references to protection benefits or lifetime income generally refer to fixed insurance products, never securities or investment products. Insurance and annuity product guarantees are backed by the financial strength and claims-paying ability of the issuing insurance company.