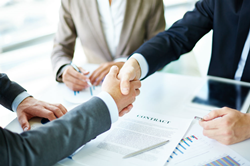 "As we looked for a partner, RetireReady's solutions stood out because they already provide retirement needs analysis for over 600 public pension plans," - Brent Neese, Executive Director of NTSA
DALLAS, Ore. (PRWEB) January 23, 2019
RetireReady Solutions® is kicking off the new year by announcing its new partnership with the National Tax-Deferred Savings Association (NTSA), a member of the American Retirement Association (ARA). Through the partnership, RetireReady will support the launch of NTSA's Certified Retirement Education Specialist (CRES) certificate program, providing high-quality tools and resources for educating advisors.
The CRES certificate program trains advisors to educate their clients on retirement planning considerations unique to public employees. Advisors who complete the certificate program are eligible to present the NTSA Retirement Literacy Course, empowering public employees with the knowledge they need to retire securely.
"As we looked for a partner, RetireReady's solutions stood out because they already provide retirement needs analysis for over 600 public pension plans," said Brent Neese, Executive Director of NTSA. "Other factors included their 30 years of experience in retirement planning solutions and clear commitment to this industry."
The partnership provides a 40% discount on RetireReady's software for those with the CRES designation. Advisors will gain access to the entire suite of RetireReady's retirement planning solutions, including retirement needs analysis and paycheck analysis.
"We are delighted to be working with the NTSA and ARA," said Edward Dressel, president of RetireReady. "For more than 30 years, we have been dedicated to helping advisors educate individuals about retirement, whether that be through a 401(k), 403(b), or other savings plan."
The average participation rate in national 403(b) savings is just 27%. According to a 2018 study by the NTSA, 7 out of 10 workers who have zero retirement savings do not have access to any retirement education from their employers. "There is a pressing need for greater education around retirement planning," said Dressel, "and this partnership is a step in the right direction."
Dressel explained that many Americans struggle to begin saving for retirement. "RetireReady's solutions focus on helping advisors keep their illustrations simple so that they can quickly establish what retirement may look like and emphasize what the cost of waiting could be."
About RetireReady Solutions
RetireReady Solutions® helps advisors build trust with their clients. Founded in 1986 as a retirement investment firm for teachers and other public employees, RetireReady Solutions specializes in retirement modeling, analysis, and illustration software for 401(k), 403(b), and federal retirement plan advisors, agents, and brokers. RetireReady Solutions is committed to continuously improving its software and supporting plan advisors with world-class training and support. For more information, visit http://www.RetireReady.com or call 503.381.1111.
About the National Tax Deferred Retirement Association
The National Tax-deferred Savings Association (NTSA) is the nation's only independent, non-profit association dedicated to the 403(b) and 457(b) marketplace. The NTSA was formed in 1989 and has grown to include practitioners, agencies, corporate and employer members. NTSA's mission is to provide high-quality professional education, technical support, and networking forums for all professionals in the 403(b) and 457(b) marketplace. NTSA is part of the American Retirement Association.