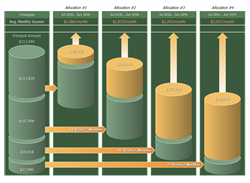 "Developing and illustrating an income bucket strategy has never been simpler. We're making it as easy as possible for advisors to explain and for clients to understand exactly what is happening." - Edward Dressel, President, RetireReady Solutions
DALLAS, Ore. (PRWEB) November 06, 2018
Retirement planning software developer RetireReady Solutions® today released the Bucket Strategy, a new income allocation feature for its popular The Retirement Analysis Kit (TRAK) software.
"Retirees want retirement income that will last their lifetime, and they want protection from market downturns like what some experienced in 2008," said Edward Dressel, president of RetireReady Solutions. "With our new Bucket Strategy feature, advisors can model a strategy that's easy for clients to understand."
The new feature allows advisors to clearly illustrate what happens when creating income "buckets" as part of a retirement plan. Advisors can time-segment funds from client accounts to create income buckets and then customize them to illustrate various products and accumulation and distribution periods and methods.
The Bucket Strategy feature includes easy-to-understand reports, visual illustrations, and integration into a full retirement needs analysis, which can include other assets or income such as Social Security. The feature is now available in the TRAK-Deluxe version.
"Developing and illustrating an income bucket strategy has never been simpler," added Dressel. "We're making it as easy as possible for advisors to explain and for clients to understand exactly what is happening."
For more information about RetireReady's TRAK, the Bucket Strategy feature, and other solutions, visit http://www.RetireReady.com/bucket-strategy.
ABOUT RETIREREADY
RetireReady Solutions® helps advisors build trust with their clients. Founded in 1986 as a retirement investment firm for teachers and other public employees, RetireReady Solutions specializes in retirement modeling, analysis, and illustration software for 401(k), 403(b), and federal retirement plan advisors, agents, and brokers. RetireReady Solutions is committed to continuously improving its software and supporting plan advisors with world-class training and support. For more information, visit http://www.RetireReady.com.