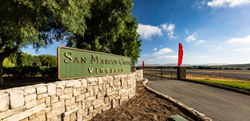 San Marcos Creek owners have truly created a true gem in the Paso Robles Wine Country with a Tuscan Italian flair.
PASO ROBLES, Calif. (PRWEB) September 24, 2018
On September 17th, 2018, a press release was published stating that a winery successor is being sought to reap the benefits of a lucrative winery lifestyle in Paso Robles. The statement should realistically read that the benefits and opportunities of the winery are "potentially" possible and not a guarantee.
Paso Robles, San Luis Obispo County is home to some of the top wineries and wines in the country. Several years ago, Roberto Morelli along with his wife Kimberly purchased San Marcos Creek Vineyard and Winery with the intention of leaving the bustle of the Bay Area to slow down in the country. After following their dream of a slower pace of life in the Central Coast and combining that with their love of wine, they quickly realized the potential opportunities they were discovering in their new property.
Since successfully developing existing and new avenues of what the winery had to offer, the Morellis are now looking forward to retirement. With that, their mission has shifted to finding the right successor to carry on with reaping the benefits from the potentially lucrative winery lifestyle.
The estate now includes the winery and vineyard, a tasting room, and a newly renovated bed and breakfast with luxury guest suites. The scenic setting hosts a fishing pond, historic buildings, and trails for walking the vineyard. Beyond that, a multipurpose Hall has been added to host a plethora of events from corporate retreats to weddings to artisan weekend markets and music nights.
"San Marcos Creek owners have truly created a true gem in the Paso Robles Wine Country with a Tuscan Italian flair." - Customer review
About San Marcos Creek Vineyard & Winery
The estate located in the rolling hills of Paso Robles is a continuation of the family's Italian farming traditions and love of the land. Each wine crafted tells a story of mineral rich soils, hand-harvested vineyards, experience and tradition. San Marcos Creek Vineyard specializes in small lots of finely crafted, single vineyard, estate grown and produced varietals. The family owned and operated winery prime property that includes a tasting room, a terrace, a "Crush Room", luxury guest accommodation, trails for walking the vineyards, venue for weddings, special events, live music, picnics, a bocce ball court, and a fishing pond. San Marcos Video
For more information contact:
Debbi DiMaggio
510.414.6777
debbidimaggio@gmail.com