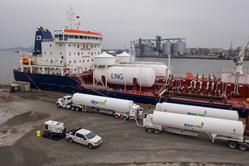 HAMILTON, Ontario (PRWEB) December 22, 2020
REV LNG, LLC, a Pennsylvania-based Liquefied Natural Gas (LNG) services provider, recently completed the first truck-to-ship LNG bunkering operation in Great Lakes history at the Port of Hamilton's (POH) Pier 22 for the MV Demia Desgagnés. The operation is the result of a new partnership between REV LNG and the Hamilton-Oshawa Port Authority, who collectively have developed the capability to provide LNG fuel to the Great Lakes shipping market. The partnership will provide shipping companies with a safe and reliable fuel solution to meet increasingly stringent environmental regulations.
REV LNG oversaw commercial and technical development of the project, sourced and transported LNG to the Port, and provided all shore-side bunkering operations. The 100,000 gallons of LNG required for the fueling was supplied from the Towanda LNG Liquefaction and Storage Facility, located in Bradford County, Pennsylvania. The new, state-of-the-art LNG production facility is owned and operated by an affiliate of Pivotal LNG, a subsidiary of Berkshire Hathaway Energy Gas Transmission and Storage (BHE GT&S), in partnership with REV LNG. LNG from the Towanda facility is designated to support a variety of marine, utility and commercial & industrial markets.
"We couldn't be happier to see that our new LNG facility in Towanda is already proving its value in the region," said Roger Williams, Vice-President of Commercial LNG and Gas Development at BHE GT&S, the parent company of Pivotal LNG. "LNG holds great promise to support the emissions reduction goals of the marine industry. With Towanda's proximity to the Great Lakes, LNG from Towanda can be a large part of that cleaner energy future."
"REV LNG's first truck-to-ship LNG bunkering operation at the Port of Hamilton is a demonstration of our company's strong desire and ability to deliver firm and reliable LNG supply solutions to the marine market in the Great Lakes region," said Dave Kailbourne, CEO of REV LNG. "We are proud to play an active role in facilitating the transition to LNG bunkering in this important marine market. As we look to the future, we anticipate growing our customer base at the Port of Hamilton-Oshawa and building new partnerships with other vessel owners and key stakeholders."
"Ports in Canada and around the world are working to bring LNG facilities online to support and attract the growing number of ships being constructed to operate on this cleaner fuel source," said Ian Hamilton, Chief Executive Officer of the Hamilton-Oshawa Port Authority. "This includes over $2 billion spent by Canadian ship operators in recent years to decrease their environmental footprint. This enhanced capability puts the POH at the forefront of efforts to reduce GHGs in line with the new IMO targets."
"We are proud to help expand the availability of LNG supply to North American shipping companies, which is the culmination of efforts by many contributors including our customer Petro-Nav, as well as the Hamilton-Oshawa Port Authority. This could not have happened without both parties being incredibly supportive of making this milestone a reality," Kailbourne concluded.
Desgagnés' leadership echoed Kailbourne's sentiment, "Our LNG-fueled fleet has now expanded to five Canadian flagged tankers all operating in the Great Lakes, St. Lawrence Seaway system, Eastern Canada, and the U.S. as well as the Canadian Arctic," said Jacques Beauchamp, President, Petro-Nav Inc. (a subsidiary of Desgagnés). "We are proud to be leaders in energy efficient, low emission, low carbon marine transportation. We are especially excited to participate with the Port of Hamilton and Rev LNG in this first marine LNG bunkering location in the Great Lakes."
GAC Bunker Fuels, the world's only bunkering company with integrated ISO 9001, 14001, and 45001 certifications for bunker procurement, which also covers LNG as a marine fuel, assisted with coordinating market outreach and will continue to play a key role in promoting the Hamilton LNG fueling facility.
"GAC Bunker Fuels is pleased to see HOPA, Desgagnes, and our LNG supply partners Pivotal LNG and REV LNG establish LNG bunkering infrastructure on the Great Lakes, further bolstering the case for our shipping customers to make the switch to clean and affordable LNG marine fuel," said Nicholas Browne, Global Director at GAC.
About REV LNG, LLC
REV LNG, LLC ("REV") is a full-service supplier of Liquified Natural Gas (LNG), Compressed Natural Gas (CNG), and Renewable Natural Gas (RNG) based in Ulysses, Pennsylvania. Since the company's inception in 2013, REV has emerged as a leading provider of mobile gas solutions including transportation logistics, marine, mobile fuel solutions, and project development. Having safely sourced and delivered thousands of LNG loads to a variety of markets including Public Utilities, Renewable Gas projects, and Exploration and Production Companies, REV is focused on providing best-in-class turnkey mobile energy service with a focus on safety and environmental stewardship. REV LNG is a minority stakeholder of NiCHe LNG, which owns and operates the Towanda LNG Facility in Bradford County, Pennsylvania. The company has been recognized for its commitment to utilizing clean fuels by the State of Pennsylvania, receiving both the Governor's Award as well as the Penn State Marcellus Center Innovation Award. REV has also received grants from the Pennsylvania Department of Environmental Protection for utilizing LNG in its trucking fleet. Visit http://www.revlng.com for more information on REV LNG.
About HOPA Ports
As an integrated port network, the HamiltonOshawa Port Authority (HOPA Ports) offers innovative port and marine assets on the Great Lakes. They are developing multimodal spaces to support Ontario's industries and facilitate trade. By investing in high-quality infrastructure and prioritizing sustainability, HOPA is building prosperous working waterfronts in Ontario communities. To learn more, visit http://www.hopaports.ca/.
About Pivotal LNG, Inc.
Pivotal LNG, Inc. (Pivotal LNG) is a wholly-owned subsidiary of Berkshire Hathaway Energy Gas Transmission and Storage (BHE GT&S) with more than forty years of experience providing clean, alternative energy solutions to industries throughout the United States – from power generation and manufacturing to marine transportation and heavy-duty trucking. With liquefied natural gas production, transportation, and delivery capabilities, the company offers a number of reliable, flexible, and cost-effective solutions. Pivotal LNG owns and operates the Trussville LNG facility in Alabama and has 50% ownership of the JAX LNG facility in Florida. Pivotal LNG's affiliate, NiCHe LNG, owns and operates the Towanda LNG Facility in Bradford County, Pennsylvania. Visit http://www.pivotallng.com for more information on Pivotal LNG, or https://www.niche-llc.com/ for more information on the Towanda Facility.
About Petro-Nav Desgagnes
Desgagnés is a Quebec group reputed for the excellence of its maritime and land operations. It is headquartered in Quebec City, with subsidiaries at major Canadian ports, in the Middle and Lower North Shore regions, and in the Eastern Canadian Arctic. With its tankers, cargo vessels, passenger and cargo carriers, Ro/Ro, and tugboats, with its charter, ship repair, refloating, heavy machinery rental, and road transportation services, Desgagnés stands as a leader in merchant marine operations.
About GAC Bunker Fuels
GAC is a global provider of integrated shipping, logistics, and marine services. Emphasizing world-class performance, a long-term approach, innovation, ethics, and a strong human touch, GAC delivers a flexible and value-adding portfolio to help customers achieve their strategic goals. Established in 1956, the privately-owned group employs over 9,000 people in more than 300 offices worldwide.