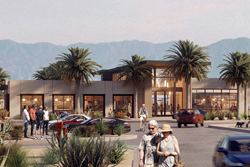 SCOTTSDALE, Ariz. (PRWEB) May 25, 2021
Revel Communities, a division of The Wolff Company representing a portfolio of vibrant independent living communities with best-in-class amenities and services, has officially launched pre-leasing for its newest independent living communities, Revel Legacy and Revel Palm Desert. Located in Scottsdale, AZ and Palm Desert, CA, respectively, Revel's newest desert-oasis communities offer residents an opportunity to live in vibrant, natural environments filled with restaurants, bars, unique entertainment, and fun outdoor activities.
"We are thrilled to continue expanding the Revel brand with the debut of Revel Legacy and Revel Palm Desert," said Danette Opaczewski, Executive Vice President, Resident Experience and Chief Operating Officer, Revel Communities. "As seniors represent one of the largest demographics shifting their lifestyle and housing needs, each Revel community offers a life without compromise and centered on choice. With hospitality-inspired amenities, indoor/outdoor living, and a unique commitment to their residents, Revel living celebrates personal freedom and continually nurtures the mind, body and spirit."
Revel Legacy, Revel's second community in Arizona, creates the ultimate environment for residents to live an independent life fueled by personal choice. Revel Legacy will feature the brand's signature amenities including a fitness room, creative studio, spa, salon and theater along with numerous onsite dining options from oven-baked pizzas to fresh, local inspired fare. The community will also feature the "Sky Deck," an indoor/outdoor lounge space located on the third floor, boasting retractable floor-to-ceiling glass doors to create an open-air retreat. Residents can enjoy sipping on cocktails at the Sky Deck while taking in stunning sunsets and stunning views of the McDowell Mountains. The Revel Legacy leasing office is located on-site at 8890 East Legacy Blvd, Scottsdale, AZ 85255
For more information on Revel Legacy, visit http://www.revellegacy.com
Revel Palm Desert will feature sleek mid-century modern architecture as a nod to the history of the famed designs from the greater Palm Springs area's storied past. Residents will be able to enjoy endless outdoor activities such as walking, biking, and hiking, fully taking advantage of the community's robust outdoor spaces along with the ideal desert climate. Along with all of Revel's signature, hospitality-inspired amenities, recreational spaces and dining offerings, Revel Palm Desert elevates the outdoor entertainment offerings with a pickleball court, fire pit, BBQ, event lawn, game lawn and dog park. Additionally, the community will feature a vintage-inspired ice cream parlor "The Scoop," with delectable sweet treats. Revel Palm Desert leasing office is located on-site at 74300 Country Club Drive Palm Desert, CA 92260.
For more information on Revel Palm Desert, visit http://www.revelpalmdesert.com.
Each community has unveiled a fully furnished cottage home as part of its pre-leasing center. Prospective residents can experience a first-hand look at the communities, finishes and features of the apartment homes and cottages, meet the Revel team and learn more about how to reserve their new home at Revel Legacy and Revel Palm Desert.
To explore Revel's variety of residential destinations, visit http://www.revelcommunities.com.
About Revel Communities
Revel Communities, a division of fully integrated investment firm The Wolff Company, is a portfolio of vibrant independent living communities with best-in-class amenities and services. Revel's growing portfolio spans across the Western U.S., including Arizona, California, Colorado, Idaho, Nevada, Oregon and Washington. As part of The Wolff Company, who holds more than 70 years of real estate experience combined with deep expertise in hospitality, Revel creates communities that keep residents connected, engaged and curious through transformative experiences for residents and team members. Offering wellness-centered lifestyles and residences for lease, Revel communities aim to support residents' life choices, focus on well-being, foster genuine connections and celebrate their independence. For more information, visit http://www.revelcommunities.com.
About The Wolff Company
The Wolff Company is an integrated real estate investment firm focused on the mission-driven development and management of rental communities across the North America. Wolff combines a discretionary private equity platform with an integrated, in-house development team and a newly formed resident experience company. The Wolff Company focuses on improving the lives of its residents by fundamentally redefining the residential rental experience, while delivering outsized investment returns. Since 1949, The Wolff Company has promoted a "people first" culture that encourages relentless innovation, steadfast execution, faithful stewardship and continuous learning. For more information, visit http://www.awolff.com.