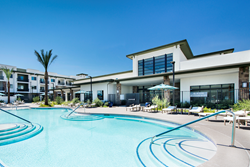 SCOTTSDALE, Ariz. (PRWEB) January 28, 2021
Revel Communities announced today that it was honored with eight individual community awards by Senior Advisor in the Best of Senior Living 2021 Awards. Most notably, Revel Communities as a brand was awarded "Best Customer Engagement," marking an impressive accolade for the national senior living brand first founded by The Wolff Company, who opened the first Revel community in 2017.
"The Best of Senior Living Awards is well respected in the industry, and we are honored to have been awarded not only marks of excellence across our portfolio, but recognized as a brand," said Danette Opaczewski, Executive Vice President, Resident Experience and Chief Operating Officer, Revel Communities. "We are thankful to our entire Revel team and to our valued residents who truly make each of our communities a testament to the Revel difference. As a brand founded with a hospitality mindset, we look forward to continuing to deliver a lifestyle focused wellness –including physical, spiritual, emotional and intellectual wellbeing–in unique ways to our residents this coming year."
Senior Advisor's annual Best of Senior Living Awards recognize senior living and home care providers who receive consistently high ratings and positive reviews from residents, families, and visitors. This exclusive designation is awarded to the top 2-3% of providers nationwide and showcases the particularly incredible achievements in the senior living industry after a year of unprecedented change.
Revel was awarded top-rated honors for the following communities:

Revel Nevada (Henderson, NV)
Revel Lacey (Lacey, WA)
Revel Lodi (Lodi, CA)
Revel Spokane (Spokane, WA)
Revel Rancharrah (Reno, NV)
Revel Vegas (Las Vegas, NV)
Revel Eagle (Boise, ID)
Revel Issaquah (Issaquah, WA)
Senior Advisor is in their 8th consecutive year of hosting the awards. Nominees are scored based on a 4.5-star rating or above and 6 new reviews on SeniorAdvisor.com during the award period (November 17, 2019 to October 18, 2020).
About Revel Communities
Revel Communities, a division of fully integrated investment firm The Wolff Company, is a portfolio of vibrant independent living communities with best-in-class amenities and services. Revel's growing portfolio spans across the Western U.S., including Arizona, California, Colorado, Idaho, Nevada, Oregon and Washington. As part of The Wolff Company, who holds more than 70 years of real estate experience combined with deep expertise in hospitality, Revel creates communities that keep residents connected, engaged and curious through transformative experiences for residents and team members. Offering wellness-centered lifestyles and residences for lease, Revel communities aim to support residents' life choices, focus on well-being, foster genuine connections and celebrate their independence. For more information, visit http://www.revelcommunities.com.
About The Wolff Company
The Wolff Company is an integrated real estate investment firm focused on the mission-driven development and management of rental communities across the North America. Wolff combines a discretionary private equity platform with an integrated, in-house development team and a newly formed resident experience company. The Wolff Company focuses on improving the lives of its residents by fundamentally redefining the residential rental experience, while delivering outsized investment returns. Since 1949, The Wolff Company has promoted a "people first" culture that encourages relentless innovation, steadfast execution, faithful stewardship and continuous learning. For more information, visit http://www.awolff.com.
Media Contacts
Julia Yuryev | Alyssa Lawrence | Anna Hubbard
Murphy O'Brien
revel@murphyobrien.com