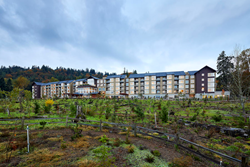 As the Issaquah and greater Seattle markets remain strong, this new independent living destination will offer those in the Washington area an opportunity to live in a vibrant community that celebrates personal freedom
ISSAQUAH, Wash. (PRWEB) February 10, 2021
Revel Communities, a division of The Wolff Company representing a portfolio of vibrant independent living communities with best-in-class amenities and services, has officially welcomed its first residents for its newest independent living community, Revel Issaquah. As Revel's third community in Washington State, Revel Issaquah is located less than 20 miles outside Seattle and just outside of downtown Issaquah across from the scenic Lake Sammamish, providing residents with easy access to art galleries, shopping and entertainment.
The first batch of residents to move into the new community have the opportunity to become part of the "Revel Founders Club," which currently has just a few spots left. This elite group of inaugural residents will be celebrated at the community's Grand Opening ceremony, and will receive exclusive rates and benefits, including a discounted community fee, bonus dining points and more.
"We are thrilled to announce that the highly anticipated Revel Issaquah community has begun welcoming residents. As the Issaquah and greater Seattle markets remain strong, this new independent living destination will offer those in the Washington area an opportunity to live in a vibrant community that celebrates personal freedom and delivers an array of enriching amenities that allow our residents to keep learning and stay active," said Danette Opaczewski, Executive Vice President, Resident Experience and Chief Operating Officer, Revel Communities.
Founded with the intention of creating a place for residents to live an independent life fueled by personal choice and the ability to live longer, healthier and happier on your own terms, Revel Issaquah will comprise of 146 for-lease residences that offer a variety of amenities designed to enhance mental, social, physical and spiritual wellness. Revel Issaquah features breathtaking views of Lake Sammamish from its third-floor sundeck and boasts community gardens and a greenhouse where residents can enjoy gardening daily and a healthy dose of Vitamin-D to help boost energy. The community will also feature restaurant-inspired dining at Ovation, a modern-American restaurant boasting made-from-scratch fare, and welcomes guests, residents and neighbors together for signature cocktails and a mouth-watering selection of pub food such as short rib sliders and shrimp avocado salad at The Social Club. Further, Revel Issaquah offers a wide range of exercise and movement programs, a luxurious indoor pool, a theater, cooking demos, a full-service salon and spa, a fitness studio, a creative studio and more.
The Revel Issaquah leasing office is located on-site at 2450 Newport Way NW, Issaquah, WA 98027. Future residents can now schedule full community tours to get a feel of how Revel Communities is reimaging independent living, meet the Revel team and learn more about how to reserve their new home at Revel Issaquah.
For more information on Revel Issaquah, visit http://www.revelissaquah.com.
To explore Revel's variety of residential destinations, visit http://www.revelcommunities.com.
About Revel Communities
Revel Communities, a division of fully integrated investment firm The Wolff Company, is a portfolio of vibrant independent living communities with best-in-class amenities and services. Revel's growing portfolio spans across the Western U.S., including Arizona, California, Colorado, Idaho, Nevada, Oregon and Washington. As part of The Wolff Company, who holds more than 70 years of real estate experience combined with deep expertise in hospitality, Revel creates communities that keep residents connected, engaged and curious through transformative experiences for residents and team members. Offering wellness-centered lifestyles and residences for lease, Revel communities aim to support residents' life choices, focus on well-being, foster genuine connections and celebrate their independence. For more information, visit http://www.revelcommunities.com.
About The Wolff Company
The Wolff Company is an integrated real estate investment firm focused on the mission-driven development and management of rental communities across the North America. Wolff combines a discretionary private equity platform with an integrated, in-house development team and a newly formed resident experience company. The Wolff Company focuses on improving the lives of its residents by fundamentally redefining the residential rental experience, while delivering outsized investment returns. Since 1949, The Wolff Company has promoted a "people first" culture that encourages relentless innovation, steadfast execution, faithful stewardship and continuous learning. For more information, visit http://www.awolff.com.
Media Contacts
Julia Yuryev | Alyssa Lawrence | Anna Hubbard
Murphy O'Brien
revel@murphyobrien.com