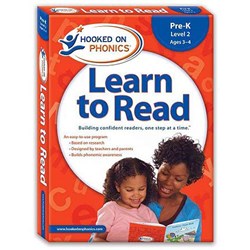 'The best element of this style of teaching is that any parent can do it; 20-minute sessions 2-3 times a week are convenient even for a busy parent… It [Hooked on Phonics] really does deliver, quickly and solidly.'
San Diego, CA (PRWEB) October 05, 2013
According to the Children's Reading Foundation (1), one in four children entering fourth grade is reading at kindergarten, first, or second grade levels. This means that the child can miss approximately half of the fourth grade material, and trail behind with decreasing levels of self-esteem and lack of academic accomplishment. One program, Hooked On Phonics, states that it is designed specifically to help bridge this literacy gap with fun yet efficient learning techniques. In a hands-on trial, research house NetXNews reviews Hooked On Phonics to test the company's claims and examine whether it works.
It originates back to 1987 as the brainchild of a father who determined that phonics games can help his son improve his reading. Since then more than 3 million families have used his phonics program to increase their children's reading skills. New techniques and media have been incorporated into the program to ensure that a child learns from a variety of sources: DVDs, books, games, songs and more. Each individual lesson uses a three-step process of "learn, practice, read", to reinforce learning in an intuitive yet result-oriented way.
Product Analyst Cynthia Duran trialed the Hooked On Phonics reading games with her five year old daughter. "I've heard of this particular program before, and after reviewing other different supplemental reading aids, I decided to test Hooked on Phonics and decide for myself," said Duran. "By adapting the program over the last 30 years to fit well with the way that children learn, it follows an intuitive and parent/teacher-friendly pattern of teaching," said Duran. "Not all children grasp literacy at the same rate, so I believe that it's important to get involved as early as possible to bridge any learning gaps and help your child stay ahead of the curve."
Duran's Hooked On Phonics Kindergarten review details the research behind the program, as well as the various accreditations and commendations it has received. So that the user may know what to expect, step-by-step, she documented her child's reading journey and identified both the positives and negatives of the Hooked On Phonics program.
"The best element of this style of teaching is that any parent can do it; manageable 20-minute sessions 2-3 times a week are convenient even for a busy parent. The phonics games are easy to navigate and work through so that you don't get frustrated!" continued Duran. "I loved seeing my daughter's evident enjoyment of the phonics games, as well as her reading progress. Within a week she was really grasping the concept of rhyming words; plus the program reward system is set up to delight and motivate children to progress. It really does deliver, quickly and solidly."
Hooked On Phonics is available in four different ages or abilities: pre K for pre-kindergarten students, kindergarten, 1st grade and 2nd grade. However, it is an investment so Duran recommends taking advantage of the free shipping and trialing the system at a discount before splashing out.
"Every child learns differently, so test out the program and decide for yourself - if you are not happy with the results, just return it for a full refund, no questions asked" concluded Duran.
To learn more, or take advantage of the discount offer and get Hooked On Phonics, please visit the official website by clicking here.
Sources:
(1) readingfoundation.org/Opening-the-Reading-Door.jsp