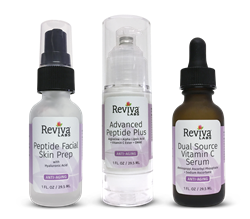 We listened to our retailers, and more importantly, to our customers who told us that anti-aging is still one of their biggest skin care concerns
Haddonfield, New Jersey (PRWEB) April 04, 2017
Now in their 45th year, Reviva Labs shows no sign of slowing down, launching a trio of anti-aging products designed to work together to provide unparalleled anti-aging benefits.
Reviva introduced Peptide Facial Skin Prep, Advanced Peptide Plus, and Dual Source Vitamin C Serum at Natural Products Expo West (March 8-12, 2017) in Anaheim, CA to great fanfare. "We listened to our retailers, and more importantly, to our customers who told us that anti-aging is still one of their biggest skin care concerns," said Ian Strassler, President of Reviva Labs. "We wanted to give our customers potent, natural anti-aging skin care."
The Peptide Facial Skin Prep infuses the skin with topical trace minerals, which "energize" the skin, making it more receptive to follow-up treatments. The beauty industry has been buzzing recently with renewed interest in the benefits of trace minerals. "Reviva has been promoting the value of topical trace minerals for years," said Strassler. "We're happy to see that the rest of the industry is finally seeing how beneficial they are."
The Peptide Facial Skin Prep is designed to work with Reviva's Advanced Peptide Plus and Dual Source Vitamin C Serum as a part of Reviva's Anti-Aging Trio, but it can also be used to boost the benefits of any follow-up skin care product.
The Advanced Peptide Plus blends proven anti-aging ingredients Alpha Lipoic Acid, Vitamin C Ester, DMAE, Collagen, Elastin, 10% Argireline, Soy, and Vitamin C into a light, balanced formula that reduces the appearance of fine lines & wrinkles, and helps repair & prevent damaged skin. Dual Source Vitamin C Serum contains two Vitamin C extracts combined into one powerful concentrate. The potent antioxidant action helps promote collagen synthesis, brighten skin's appearance, and correct existing environmental skin damage while combating future damage.
Each of these products is a powerhouse on its own, but they are particularly effective when used together. "One of the things Reviva has always done very well is formulate products that supplement and complement each other," said Strassler. "We are experts at 'layering' products and ingredients to give our customers effective skin care, as well as the ability to address their individual skin concerns. That allows them to create the regimen that works best for them."
Reviva's new Peptide Facial Skin Prep, Dual Source Vitamin C Serum, and Advanced Peptide Plus are currently available at http://www.revivalabs.com and retail outlets where Reviva Labs products are sold.
About Reviva Labs
Reviva Labs formulates safe, effective natural skin care that is sold in major retailers, professional spas and salons, and health food stores nationwide and around the world. For over 40 years Reviva has delivered many skin care breakthroughs and introduced new natural ingredients to the market. Reviva Labs products are free of toxic or harmful ingredients, are cruelty-free, and proudly made in the USA. Our commitment to formulating products using natural elements as well as technological advances has made Reviva Labs a leader in the natural skin care industry.