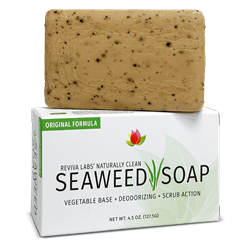 When Jeri approached JNS we jumped at the chance to be the exclusive seller of their Seaweed Soap. Everyone here absolutely loves it and knew it would be extremely popular upon its return
HADDONFIELD, N.J. (PRWEB) September 01, 2020
After a two-year hiatus, Reviva Labs' much-in-demand Seaweed Soap is relaunching with great excitement. Reviva's returning Seaweed Soap will feature the beloved original formula and once again be packaged in a box – addressing many of the concerns from preceding production runs.
"It was heartbreaking when we decided to discontinue our Seaweed Soap," said Bill Levins, President of Reviva Labs. "People love our Seaweed Soap and have used it for years. But it became difficult to manufacture to our rigorous standards, while keeping the cost affordable for our loyal customers." Reviva's Seaweed Soap eschews animal tallow, instead featuring a natural vegetable base combined with other wholesome natural ingredients.
Reviva's Seaweed Soap, with its gentle scrubbing action, is suitable for cleansing both the body and the face. "Our customers have been clamoring for this soap to come back in stock," says Jeri Trachtman, VP of Sales, "and we're thrilled to be able to offer it again." Since its discontinuation, Reviva has received a near daily barrage of emails, phone calls, and even written letters indicating the ardent fans of Reviva's Seaweed Soap sincerely wanted this soap brought back to market.
"The soap was supposed to make its return debut in May; however, the pandemic caused a few hiccups," explained Martin Cruz, VP of Production at Reviva. The final production run of the soap passed all critical examinations and quality controls and should be available by the end of July or the early part of August 2020.
After resolving prior quality inconsistencies, and having returned to the original soap formula, the remaining question was how best to re-introduce the Seaweed Soap. It had been out of stock for so long and technically discontinued so to distribute through traditional channels would have proven challenging, costly, and slow. The solution was to offer the soap as an exclusive via a top-tier reseller. "JNS Beauty & Nutrition, a long-time reseller and supporter of the Reviva Labs Brand, was the perfect fit," stated Jeri Trachtman.
"When Jeri approached JNS we jumped at the chance to be the exclusive seller of their Seaweed Soap. Everyone here absolutely loves it and knew it would be extremely popular upon its return," said Jinal Shah, Director of Operations at JNS Beauty & Nutrition. JNS Beauty has a one-year exclusive on Reviva Labs' Seaweed Soap with the option to extend it. Upon Reviva Labs Seaweed Soap return debut it will be available exclusively from JNS Beauty & Nutrition.
About JNS Beauty & Nutrition
With a mission to provide innovative and natural solutions, JNS Beauty & Nutrition is a trusted and reputable brand in the world of beauty, health and fitness. Located in New Jersey, they are a leading wholesaler, distributor, and online retailer of Health, Beauty and Grocery products. JNS offers broad expertise in the field of wellness, fitness, nutrition, and beauty with an unmatched understanding of the complex and volatile healthcare landscape. JNS takes great pride in offering the highest level of customer satisfaction to the clients they serve.
About Reviva Labs
Reviva Labs formulates safe, effective natural skin care that is sold in major retailers, professional spas and salons, and health food stores nationwide and internationally. For over four decades Reviva has delivered many skin care breakthroughs and introduced new natural ingredients to the market. Reviva Labs products are free of toxic or harmful ingredients, are cruelty-free, and proudly made in the USA. Our commitment to formulating products using natural elements as well as technological advances has made Reviva a leader in the natural skin care industry.