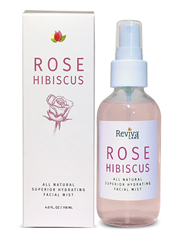 The enthusiastic feedback is why we're confident our new Rose Hibiscus Natural Hydrating Facial Mist will quickly become a top seller
HADDONFIELD, N.J. (PRWEB) September 13, 2018
Reviva Labs unveils its new Rose Hibiscus Hydrating Spray at the 2018 Natural Products Expo East. This new four ounce hydrating facial mist is infused with beneficial botanical oils and extracts and offers superior hydration. Rosewater and floral extracts craft a beautiful aroma of Rose and Hibiscus in a simple, clean natural formula.
Reviva's Rose Hibiscus Spray was carefully designed. It features hyaluronic acid for moisturizing, aloe for soothing skin, and a bounty of natural oils and extracts, along with an amino acid complex to help ensure your skin will look and feel more hydrated while your complexion is more radiant. It's a perfect moisturizing spray for your hair, face, and/or body. It can be used as a natural toner, to set makeup, or to simply hydrate and moisturize with a simple spray.
Early preview samples provided to distributors, retailers, and key influencers garnered an overwhelmingly positive response. "The enthusiastic feedback is why we're confident our new Rose Hibiscus Natural Hydrating Facial Mist will quickly become a top seller," stated Jeri Trachtman, VP of Sales.
Like most Reviva Labs products, the new Rose Hibiscus Hydrating Spray works beautifully alone or it can complement other Reviva skin care. Reviva's new Rose Hibiscus Hydrating Spray is currently available direct from Reviva Labs or online at http://www.revivalabs.com and it will be available via distribution soon. Resellers should ask their preferred distributor, and consumers should inquire about availability at their favorite retail outlets where Reviva Labs products are sold.
About Reviva Labs
Reviva Labs formulates safe, effective natural skin care that is sold in major retailers, professional spas and salons, and health food stores nationwide and around the world. For over 40 years Reviva has delivered many skin care breakthroughs and introduced new natural ingredients to the market. Reviva Labs products are free of toxic or harmful ingredients, are cruelty-free, and proudly made in the USA. Our commitment to formulating products using natural elements as well as technological advances has made Reviva Labs a leader in the natural skin care industry.