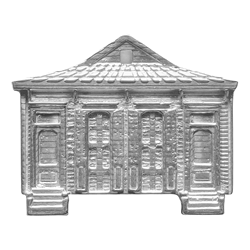 "We want to be a catalyst of care for the local community"
New Orleans, La. (PRWEB) September 27, 2016
Today, Revival Nola announces the launch of its fine jewelry store. The company crafts original, New Orleans-inspired jewelry designs with a philosophy to give back to the local community. To celebrate the launch, its team has created five limited edition pieces that will only be available until the end of 2016.
These hand-crafted, highly detailed pieces are made of solid silver. Each of the designs took more than 30 man hours to perfect and embodies a quality of the city that inspired it. The pieces are:

Cathedral: This design captures the beauty and detail of the St. Louis Cathedral in Jackson Square.
Bourbon Street: The Bourbon Street sign gives an appropriate artistic representation of New Orleans' originality thanks to the street's eclectic nature.
Shotgun Double: From the shingles on the roof to the lines in the shutters, Revival Nola paid attention to every detail to craft an immaculate rendition of a beautiful shotgun-double home.
Jester Hat: The jester hat takes any local's mind to the Mardi Gras season, encompassing the laid-back, "laissez les bons temps rouler" attitude of New Orleans.
Gallery Home: This piece was worked for hundreds of hours to capture every majestic, elegant, and ornate detail of New Orleans' beautiful architecture.
After creating the piece, the jeweler hand-engraves each one, numbered uniquely from 1-500, and then handwrites a certificate of authenticity.
Revival Nola's team has more than 30 years' expertise and is driven by its love for New Orleans. To support the city, the company donates a percentage of every purchase to a local non-profit that truly and effectively benefits the community.
"We want to be a catalyst of care for the local community," said Jacob Pazos, founder.
To learn more about Revival Nola or to explore its limited edition New Orleans jewelry, please visit http://www.revivalnola.com.
About Revival Nola
After Hurricane Katrina, New Orleans appeared to be down and out. Now, 11 years later, the restoration of the city has been evident. Neighborhoods have bounced back and the city, in many ways, looks like it has not skipped a beat. Though the physical restoration of the city seems obvious, poverty and crime is at an all-time high. Revival NOLA is focused on solving these issues through our strategy and philosophy by creating jewelry as a means to give back to the community.