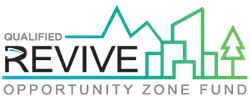 The Revive Qualified Opportunity Zone Fund seeks to acquire and develop a diversified portfolio of impactful and game-changing projects focusing on Real Estate, Agriculture, Technology, Energy and beyond.
NORMAN, Okla. (PRWEB) November 16, 2020
ReVive Qualified Opportunity Zone Fund Launches Seeking Accredited Investors for Impact Investment into Hydroponic Green Houses. The Executive Management Team is led by Jordan Cramer and Tyson Heltzen, partnering with Valley Greenhouses.
The Revive Qualified Opportunity Zone Fund seeks to acquire and develop a diversified portfolio of impactful and game-changing projects focusing on Real Estate, Agriculture, Technology, Energy and beyond.
Valley Greenhouses
Revive's first Opportunity Zone investment will be in Valley Greenhouses LLC, which will own a 50-acre hydroponic greenhouse facility in Lawton, Oklahoma located in a Qualified Opportunity Zone (QOZ). The greenhouse will be built and operated by an international greenhouse group, which has completed multiple greenhouse world-wide. The project will meet demand for agricultural products from regional and local produce wholesalers.
Valley Greenhouse Systems is a cut above the rest with Hybrid LED grow-light system, solar panels to offset energy use, a 28-day grow cycle, High-tech water, humidity, and a temperature management system. Along with durable construction, an advanced energy efficiency system, water preservation, reuse and cogeneration geothermal heat installations.
The 50-acre flat greenhouse site is located adjacent to Interstate 44, just 172 miles from the growing North Texas area of Dallas-Ft. Worth(pop. 7 million) and has been certified as a site ready, by the Oklahoma Department of Commerce.
ReVive Opportunity Zone Fund Capitalization
The Blended Capital Stack will be a high ratio of soft capital to debt and equity. $52.94M in city, state and federal program commitments secured. $37.2M upfront and an additional $15.74M of inflows over the project term. This soft capital securitizes the equity gap and a debt portion.
Mitigated execution risk will be managed by an experienced contract operator with an international greenhouse group, to build and operate the facility, including training all staff and managing efficiency goals.
Higher production rates and lower production risk will be reached through hydroponic greenhouse growing methods. Advantages include uniform appearance, increased yields per acre, year-round production, reduced reliance on water – 90% less than field-grown, and reduced pest, disease, and pesticides.
With a high market demand for US-grown products from 70 to 80% of tomato products are imported from international markets. Internationally and takes 13 days from picking to supermarket. Estimated 30% distributor savings in reduced shipping needs for domestic products.
Business Values and Direct Relationships
The Valley Greenhouses Management team and partners have deep local ties and a track record of investment management, having 50 years of finance and business development experience across public, private & non-profit sectors. The team has direct business relationships with all the major distributors, including SYSCO, HEB and USDA, as well as many of the 90 regional distributors in Northern Oklahoma. Produce Purchase Agreements (PPAs) will be pursued with these distributors and chain grocers with a primary philosophy "local produce for local markets.
Valley Greenhouses value proposition is as follows: fresh produce grown without pesticides, delivered, and distributed shorter distance to maintain freshness and taste, cutting down on spoilage, transportation costs and overall impact on the environment. This effective way of operating results in a high-quality product available to a distributor at a reasonable market cost.
ReVive Qualified Opportunity Zone Fund Management Team
Jordan Cramer - CEO
Jordan Cramer is a successful Financial Wealth Manager and entrepreneur who has a vision to improve, build, and uplift the Norman, OK community. Jordan grew up in the Norman area, attending Community Christian High School and the University of Central Oklahoma. He has continued to be involved in the local community, serving as the Vice President of the Norman Lion's Club and is an active member of the Norman Business Association, the Norman Chamber of Commerce, and Norman Forward, which is a group of young professionals working towards a common goal of reviving the city of Norman.
Professionally, Jordan holds a real estate license in the state of Oklahoma and holds Series 7, Series 63, and Series 66 licenses. He has worked helping both institutions and individuals in the financial field for six years. He played a major role in obtaining funding for Kirby's Steakhouse and Mickey Mantle's Bar located within the WinStar Casino. Jordan believes in the value of developing strong relationships with his business partners and clients, and the concept of seeking wise counsel from those around him in the decision-making process.
The same values that make Jordan a successful professional are also present in his personal life. He and his wife Mollie, a registered nurse, are devoted Christians who believe in acting with integrity, compassion, and self-awareness in all things.
Jordan has passion to be able to help his clients create customized retirement strategies that optimize income and reduce tax burdens, while at the same time seeking to support those in need within the local community. This passion becomes action with this "Opportunity Zone" business, where Jordan's past experiences, leadership ability, and desire to uplift his community will ensure his success.
Tyson Heltzen - CFO
For almost two decades, Tyson Heltzen has been a leader in the OKC automotive industry. Since his start, Tyson has owned, hand built and managed his own portfolios and bought and sold seasoned blocks of receivables ranging from two to five million dollars.
Because of his success, Tyson has been an absentee business owner since April 21st, 2018, which has allowed him to get back to his passion—taking care of the fatherless. Just after Christmas 2019, Tyson spent three weeks in Africa helping non-profits in the region. In March 2020, Tyson purchased a small farm near Kampala, Uganda in order to support non-profit causes in the area. Through the use of farming and business principles, Tyson helps children learn local trades and basic financial knowledge so that they may sustain themselves and their families.
Combining his two interests, business and helping others, Tyson feels blessed to be involved in the Opportunity Zone space. In 9th grade, Tyson's teacher gave him a token that he still carries to this day that says, "If you help enough people get what they want in life, you will get what you want." Using this token, Tyson believes Opportunity Zones allow him to use his business acumen to find and create "win-win" solutions for investors looking to avoid taxable gains.
About Opportunity Zones
With the 2017 Jobs Act, The new IRS Tax rule changes have been enabled to give an additional tax break called "Opportunity Zones" where businesses can provide new tax breaks to accredited capital gain investors that are investing in them. The tax rules that the IRS has laid out with regard to Opportunity Zones have been both complex and evolving as they have been updating these rules ever since they were originally announced as part of the 2017 tax rule changes.
The IRS has officially designated over 8,000 Opportunity Zones all across the 50 United States, Puerto Rico and many other U.S. Territories, as qualified Opportunity Zones that can take advantage of this program under certain rules and guidelines of the 2017 IRS Tax law. CEO and Business owners have seen "Opportunity Zones" as a way for their clients to both reduce and postpone (5 year - 10%) their current capital gain tax requirements, and in many cases completely eliminate their future capital gains taxes on their new OZ Fund investment (While holding it for 10 years). Additionally, accredited investors who are taking profits from their real estate or stock sales, can also take advantage of these "Opportunity Zone" tax benefits, as long as they are invested in a qualified opportunity zone fund investment.
If you're wondering what the capital gains tax rate 2020 is, ReVive can help with that & long-term capital gains tax and short-term capital gains tax. Capital gains tax rate could be changing and capital gains tax and capital gains can now be invested in Qualified Opportunity Zone Funds, like ReVive Opportunity Zone Fund.
Who will benefit the most from Opportunity Zones?
A qualified accredited investor who has just made a Real Estate or stock sale and has a current capital gain tax issue. If the accredited investor invests it all its capital gains in a Qualified Opportunity investment fund, by holding their investment in the Qualified Opportunity Zone Fund for 5 years; they will get a 10% reduction in the capital gains , they can postpone paying this capital gains tax for 6 years and if they hold the capital gains investment in the Revive Fund for 10 years or more, they will not have to pay capital gains on the future profits and capital gains from this new investment. This is a significant savings when you analyze it against a typical 1031 exchange in Real Estate. 1031 have currently not been available to non-real estate capital gains (i.e. Stock Sales).
If you are wondering what you can do with a 1031 exchange or how the 1031 exchange rules apply, ReVive Opportunity Zone Fund utilizes ways to take the 1031 tax exchange and allows you to invest in opportunity zones and receive additional tax benefits above the 1031 exchange.
For more information about the Revive Qualified Opportunity Zone Fund, please visit http://www.ReViveQOF.com for more details.
Contact Revive Qualified Opportunity Zone Fund
Jordan Cramer – Fund Manager
Tyson Heltzen – Fund Manager
Email: Info@ReViveQOF.com
Call: (405) 554-3332
© 2020 Revive Qualified Opportunity Zone Fund Inc.
This Fund is 3rd Party Administered by: NES Financial
DISCLAIMER
Articles featured on this page are for informational purposes only. This is not an offer to sell nor a solicitation to buy Revive Qualified Opportunity Zone Fund. That can only be done by our current Confidential Private Placement Memorandum ("CPOM"). Securities offered by Revive Qualified Opportunity Zone Fund Inc. For accredited Investors only. Limited liquidity. The shares being sold in this offering have not been approved or disapproved by the Securities and Exchange Commission or any state's securities division. Nor has the Securities and Exchange Commission or any state securities department passed upon the accuracy or adequacy of the CPOM or the disclosures provided therein. Any representation to the contrary is a criminal offense. The information contained in this website is for general information purposes only. The information is provided by Revive Qualified Opportunity Zone Fund and while we endeavor to keep the information up to date and correct, we make no representations or warranties of any kind, express or implied, about the completeness, accuracy, reliability, suitability or availability with respect to the website or the information, products, services, or related graphics contained on the website for any purpose. Any reliance you place on such information is therefore strictly at your own risk.