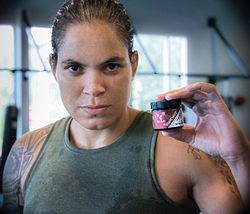 After I was introduced to the Revivid Sport CBD products and gave them a try I was amazed at the results.
DENVER (PRWEB) October 11, 2019
Revivid Sport, the leading Hemp brand of CBD Oil for athletes and active individuals, is excited to announce an official partnership with professional Mixed Martial Artist ("MMA") Amanda Nunes, the first woman in the Ultimate Fighting Championship ("UFC") history to become a two-division champion and the first woman in UFC history to hold two titles simultaneously. Nunes is widely regarded as the best pound-for-pound female fighter in the world, a title once owned by Ronda Rousey and Nunes dethroned.
Amanda Nunes is a current two-division Champion competing for the Ultimate Fighting Championship reigning over both the Women's Featherweight (145 pounds) and Women's Bantamweight (135 pounds). A professional since 2008, Nunes is a 31 year old Brazilian who made her United States debut in 2011 for the Strikeforce organization and first began competing for the Ultimate Fighting Championship in August of 2013. Nunes holds a professional record of 18 Wins and 4 Losses and currently holds a record of 11 Wins and 1 Loss in the UFC.
"After I was introduced to the Revivid Sport CBD products and gave them a try I was amazed at the results," said Nunes. "I was so happy with the products that I wanted to be a part of this high-quality trusted brand that supports individuals with active lifestyles."
Nunes is currently preparing to defend her UFC Women's Bantamweight Championship at UFC 245 on December 14, 2019 in Las Vegas, NV.
"At this level athletes are all trying to find that edge, the thing that gets their hand raised at the end of the fight. We are excited to part of Amanda's edge," said Revivid Sport Vice President Harold Robinson. "We have been supporting athletes since the brand began and were one of the first CBD brands to support MMA athletes. We are excited to continue to align ourselves with the best of the best in multiple sports."
Revivid Sport is a vertically integrated hemp CBD brand located in Colorado producing CBD-rich products that include CBD Oil Tinctures, CBD Softgels, and CBD Topical creams. All Revivid Sport products are made from 99.9% pure CBD Isolate that has been isolated and void of all other cannabinoids. As a professional athlete in the UFC, Amanda is regularly monitored and drug tested by State Athletic Commissions and the United States Anti-Doping Agency (USADA) who follow the World Anti-Doping Association (WADA) drug testing standards. Revivid Sport products conform to all of these needs and regulations.
With the guidance of athletes like Nunes, MMA fighter Chris Camozzi, and professional Brazilian Jiu Jitsu athlete Beatriz Mesquita, Revivid Sport also plans to launch multiple new products under the Revivid Sport Elite product line to further create products that meet the needs of athletes of all levels. From those living a healthy, active lifestyle to professional athletes at the peak of their sports, Revivid Sport is there to help them be their best.
About Revivid Sport
Revivid Sport produces CBD-rich products aimed to cater to those living an active lifestyle or CBD Oil for athletes with THC-Free CBD products derived from 99% pure Cannabidiol Isolate. Revivid Sport was born from an opportunity to serve humanity. From the earliest days in 2012 with a medical cannabis dispensary and a desire to offer only the best CBD products available. Upon the passage of the 2014 Farm Bill the legalization of industrial hemp began and the uphill battle for Revivid CBD began. Revivid Sport is a full seed-to-sale vertically integrated organization with complete control over the entire production process from the growing of hemp to the extraction and bottling of CBD products. Revivid Sports produces CBD-rich products including CBD Oil Tinctures, CBD Topical Creams, and CBD Soft Gel Capsules. Learn more at https://revividsport.com