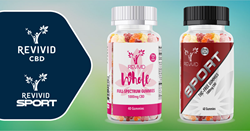 EVERGREEN, Colo. (PRWEB) August 07, 2020
Revivid USA, the leading Hemp brand of CBD oil, is pleased to announce the release of two new products. Revivid Whole Full-Spectrum CBD Gummies and Revivid Sport THC-Free CBD Gummies join the company's already established range of CBD Oil Tinctures, CBD Softgels, and CBD Topical creams.
Revivid Whole CBD Gummies (40ct) are full-spectrum, ensuring all of the plant's cannabinoids have been preserved in the final product. The athlete-tailored Revivid Sport CBD Gummies (40ct) are THC-free and made from 99.9% pure CBD Isolate, which is tested at the company's Colorado base to ensure it does not contain other cannabinoids. Many athletes are turning to CBD products to help their bodies recover from training sessions and intense games. The Revivid Sport gummies are set to transform the needs of athletes of all levels.
From those living a healthy, active lifestyle to professional athletes at the peak of their sports, Revivid is here to help them be their best.
Revivid currently sponsors multiple athletes including Two-Division UFC Champion Amanda Nunes, who defended her UFC Women's Bantamweight Championship at UFC 245 in Las Vegas in December last year and her UFC Women's Featherweight Championship at UFC 250 in June of 2020.
Nunes said she was "amazed with the results from Revivid's CBD products," adding, "I was so happy with the products that I wanted to be a part of this high-quality trusted brand that supports individuals with active lifestyles."
Currently, there are no FDA regulations to dictate recommended CBD oil levels in edibles, which means it is important to choose a reputable brand such as Revivid for safe consumption.
About Revivid USA
Founded in 2012, Revivid's mission was only to offer the best CBD products available. After the legalization of industrial hemp in 2014, the company scaled up its seed-to-sale vertically integrated organization and has ensured it maintains full control over the entire production process, from the growing of hemp to the extraction and marketing of its products. Revivid produces multiple cannabinoid-rich product lines for every lifestyle. Revivid Whole boasts a full-spectrum CBD line designed to deliver multiple cannabinoids to the body's Endocannabinoid System. Athlete-tailored Revivid Sport offers products for those desiring THC-free CBD.
To learn more about Revivid's CBD products, learn more at https://RevividUSA.com and https://RevividSport.com.