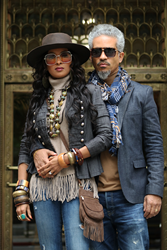 The goal of the Anatomy series is not only to entertain, but to elevate and inspire REVOLT's global audience. - Jennia Fredrique Aponte
LOS ANGELES (PRWEB) January 16, 2020
REVOLT TV announced its plans to renew its deal with Full Frequency Media to create four new installments of its popular "Anatomy of…" docu-series, with the first new special premiering in February 2020.
The "Anatomy of…" series premiered its first two installments earlier this year with "Anatomy of a Queen" in March (in honor of Women's History Month) and "Anatomy of a King: The Art of Fatherhood" which premiered on Father's Day in June. Following the success of these powerful projects, REVOLT TV renewed its deal with husband & wife production duo Sol & Jennia Fredrique Aponte of Full Frequency Media, to extend the concept into a docu-series in 2020. The program seeks to tell intimate and uplifting stories of women and men exemplifying Black Excellence in varying forms across business, fashion, art, family, love and more.
"REVOLT boldly represents youth culture from an elevated, authentic, and unapologetic Hip Hop lens, giving a platform to creatives to push the boundary of the culture, inspiring excellence, and empowering our community to change the world," said Robyn Lattaker-Johnson, Head of Content for REVOLT. "The Anatomy of… series of specials does just that by highlighting influential culture movers and shakers who epitomize innovation and excellence."
The third installment of the "Anatomy" series, and first of the new 2020 run, entitled "Anatomy of Black Love" is slated to premiere on Valentine's Day and will feature power couples Michael Jai White and Gillian White, Eric Bellinger and La'Myia Good-Bellinger, Sol Aponte and Jennia Fredrique Aponte and more. In the signature "Anatomy of…" style, the program will feature highly stylized images alongside intimate interviews, as the couples speak candidly about subjects in the culture that are rarely discussed or explored authentically on-screen.
"The goal of the Anatomy series is not only to entertain, but to elevate and inspire REVOLT's global audience," says director Jennia Fredrique Aponte.
The premiere will be accompanied by a viral digital and social media campaign designed to inspire the Black community to celebrate, appreciate, and honor Black love.
For more information on the REVOLT's upcoming series please click here. Eager fans can learn more, join in and follow the social conversation across Instagram, Twitter, and Facebook.
About REVOLT TV
REVOLT is unapologetically Hip Hop, leading and living Hip Hop culture. REVOLT is the voice of the culture across platforms, engaging Millennial and Gen Z audiences, on REVOLT.tv, across social, TV and live events, through original and live content. Attracting over 50 million young people, REVOLT is accessible 24/7 on digital, TV and on demand. Founded by Sean "Diddy" Combs, REVOLT launched in broadcast in October 2013 and is available on DIRECTV, AT&T U-verse TV, Charter Spectrum, Comcast Xfinity, Verizon FiOS, CenturyLink, Altice/Suddenlink, Frontier Communications, Comporium and Cincinnati Bell, Atlantic Broadband, Hotwire, as well as OTT platforms DIRECTV Now, Sling TV, Fubo TV and Philo TV. REVOLT is also available internationally in the Bahamas, Cayman Islands, Jamaica, Barbados, Nevis, Anguilla, Monserrat, Bermuda, Aruba, St. Maarten's, Trinidad and the U.S.V.I. Check local listings at https://revolt.tv/listings.
About Full Frequency Media
Full Frequency Media is an award-winning full service production company specializing in the creation, development, packaging and distribution of media content across all platforms. The company's is led by two-time Emmy nominee Sol Aponte and wife Jennia Fredrique Aponte, award-winning writer/director and Sony Director's Program alum.