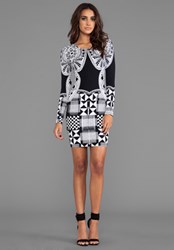 create a number of versatile looks with a hint of sexiness
Los Angeles, CA (PRWEB) January 03, 2014
REVOLVE picks up whimsical prints and playful styles from UK based line FAIRGROUND. Inspired by the eccentric fashion of European festival and rave goers, FAIRGROUND embodies the radical free spirit, with adventurous and bold looks of the party-goers wearing them.
Founder Steve Martin aspired to create a brand that went beyond designing beautiful clothing, Martin is driven by his philosophy of respect for "the planet we live on, and all that live upon it". From start to finish FAIRGROUND maintains this ideology by using only eco friendly dyes and producing everything in their own factory in Bali, which provides an ethical working environment for all employees.
FAIRGROUND takes an imaginative approach in combining elements of art and geometry into their prints, while maintaining a youthful sophistication in the silhouettes. With stripes, color blocking, tie-dye, and kaleidoscope patterns, only in black and white, "FAIRGROUND pieces can be mixed and matched to create a number of versatile looks with a hint of sexiness." Says REVOLVE buyer Stefanie Farano.
Head to the FAIRGROUND and shop the latest pieces now on REVOLVE.
About REVOLVE:
REVOLVE has been recognized as the premiere destination for coveted brands and unparalleled customer service since 2003. Home to over 500 men's and women's cutting-edge designers, the site boasts the latest apparel, shoes and accessories, all offered with free shipping and returns, plus a 30 day price match guarantee. To shop the latest styles, visit REVOLVE.