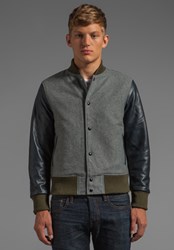 It's hard not to be impressed with the quality of their handcrafted goods.
Los Angeles, CA (PRWEB) November 23, 2013
REVOLVEman lands high-quality handcrafted apparel from Los Angeles based brand, Rogue Territory. With what started as a small workshop in the back of the American Rag World Denim Bar in 2008, has now become a globally recognized men's ready-to-wear collection.
REVOLVE buyer James Hammonds states, "The fit is impeccable, sleek and classic with a few modern details that are intricate yet subtle. It's hard not to be impressed with the quality of their handcrafted goods."
In addition to their focus on producing quality products, the founders of Rogue Territory also devote themselves to "KEEP THE TRADE ALIVE," which is their dedication to keeping the artistry of handcrafted goods alive and supporting the community of creative makers that they're proud to be a part of. Their goal is to collaborate with like-minded craftsmen and artisans to bring unique products to their customers and ultimately share the stories of other passionate people who inspire them.
With an array of denim in perfect-for-fall hues, as well as sleek fitted button downs and a classic bomber jacket with leather accents, Rogue Territory is the perfect addition to any man's wardrobe.
Go rogue and get Rogue Territory now available on REVOLVEman.
About REVOLVE:
REVOLVE has been recognized as the premiere destination for coveted brands and unparalleled customer service since 2003. Home to over 500 men's and women's cutting-edge designers, the site boasts the latest apparel, shoes and accessories, all offered with free shipping and returns, plus a 30 day price match guarantee. To shop the latest styles, visit REVOLVEclothing.com.