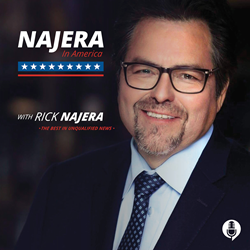 "Storytelling is at the core of reVolver Podcasts entertainment lineup. I am excited to have Rick and his show bringing important subjects such as diversity, entertainment, and politics to our unique digital platform."
LOS ANGELES (PRWEB) August 27, 2020
reVolver Podcasts today announced a partnership with award-winning sketch comedy writer, author, and Broadway playwright Rick Najera for a new podcast, "Najera in America" (NIA). Najera hosts this weekly show addressing diversity in America with a comedic twist and is now available on Apple Podcasts, Google Play, iHeart, Spotify at https://www.revolverpodcasts.com/shows/najera-in-america/.
"Storytelling is at the core of reVolver Podcasts entertainment lineup," said President of reVolver Podcasts Jack Hobbs. "I am excited to have Rick and his show bringing important subjects such as diversity, entertainment, and politics to our unique digital platform."
reVolver Podcasts is the leading multicultural, audio-on-demand content creator and distributor in the U.S. Home to "El Show de Piolín," "The Power of Us," and "Don Cheto, Al Aire" plus more than 50 additional programs spanning sports, music, finance, entertainment, lifestyle, health and wellness, inspiration, news, branded content and live events. The podcasts are distributed on reVolverPodcasts.com, Apple Podcasts, Spotify, Google Podcasts, Pandora, and iHeartMedia.
Developed by Najera, NIA is a humor-filled, effusive podcast show created with a heart to fill the void for a much-needed conversation with today's top voices in diversity, entertainment, and politics. Upcoming guests include Academy Award® nominee/Tony Award® winner Edward James Olmos, comedians Wendy Leiberman, Carole Montgomery, Erik Rivera, Momo Rodriguez and former Telemundo President, author, and motivational speaker, Nely Galan, to name a few.
Najera explained that NIA, created at the height of the COVID-19 pandemic, came from his desire to give people hope during a very difficult time. As the creator of "Latino Thought Makers," his current live show of more than six years, Najera was already trying to bring diversity to the forefront. With his new podcast, he wants his audiences to know that people, around the country, are all in this together.
Najera explained: "I think nowadays, people are waking up and saying: 'My God how can it get worse?' Well, in this show I get to tell you in a comedic way."
A consummate industry professional and a Los Angeles native, Najera worked his way up from Shakespeare at the Old Globe Repertory Theater to writing for major television comedies such as "In Living Color," "Robert Townsend," "MADtv" to dramatic shows, such as "East Los High" for Hulu. He developed his self-written stage play: "Latinologues", which was taken to Broadway at the Helen Hayes Theatre in New York. Najera is considered among the top sketch comedy writers and speakers in Hollywood. He also starred in two Showtime specials, "Diary of a Dad Man" and "Legally Brown." Currently, he is also working on his fifth book with Dr. Sanjiv Chopra, based on writing and speaking.
"Najera in America" is produced by reVolver Podcasts and Cohesive Entertainment Group, LLC and is available on Apple Podcasts, Google Play, iHeart, Spotify and can be found here: https://www.revolverpodcasts.com/shows/najera-in-america/
For more information about reVolver, visit http://www.revolverpodcasts.com.
Find and subscribe to the "Najera in America" podcast on social media at @najerainamerica and hashtag #NIA and #NajeraInAmerica.
Najera is repped by Daryn Simons at Cohesive Entertainment Group, LLC.