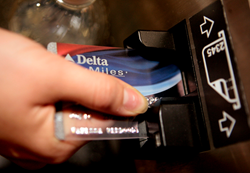 Airlines are doing everything they can to keep their customers loyal because many are using their loyalty programs or customer base as collateral for loans. Bayram Annakov
NEW YORK (PRWEB) October 07, 2021
If there's one positive consequence of the pandemic, it's increased flexibility on the part of the airlines. According to a recent report from Scott's Cheap Flights, all the main US airlines have joined Southwest in permanently eliminating change fees for main economy or higher and United and Delta both recently announced they were extending flexibility to basic economy ticket holders through 2021, as well.
ExpertFlyer recently went One-on-One with a few travel industry experts, including ExpertFlyer founder Chris Lopinto, to gain a better understanding of how the pandemic has changed airline loyalty programs and for how long, and ways consumers can take advantage of the airline's continued flexibility at a time when business travel continues to remain grounded. Joining Chris Lopinto in the conversation were Tim Leffel, travel author and blogger at CheapestDestinationsBlog.com, and Bayram Annakov, founder of App in the Air, a personal travel assistant app used by more than 6 million travelers.
Tim Leffel admits he isn't a road warrior looking to rack up hundreds of thousands of miles but as an AAdvantage program member since the 80s, he has certainly experienced the evolution of airline loyalty programs. "I'm always trying to figure out how the system works and how to get the most out of it as a normal traveler," he says. "Similar to Uber surge pricing, the airlines are going to try to squeeze you for as much as they can when demand is high and then give you a nice break when demand is low. That's great for their business, but it's not so great for us travelers, because our points get devalued in the process."
"During the earlier days of the pandemic, there were definitely more award tickets available as airlines were just looking to fill empty seats any way that they could," says ExpertFlyer's Chris Lopinto. "But now, the effects of large layoffs have created another problem: The reduction in staff has forced airlines to reduce the number of flights, resulting in limited award tickets."
ExpertFlyer was designed to help with that by notifying users when awards tickets or a better seat may become available in the future. Referencing ExpertFlyer Award Ticket Alert data compared to Award Tickets found, Lopinto confirmed that early in the pandemic award tickets were plentiful as airlines tried to fill seats. However, as the number of flights were cut due to reduced staff, the percentage of alerts created in relation to award tickets found were almost back to pre-pandemic levels. Breaking it down further, Lopinto said, "While business travel has dropped precipitously, the uptick in leisure air travelers combined with overall fewer flights, means fewer seats are actually available. And there are still a lot of leisure travelers who are willing to pay for a premium economy or business class seat, either with dollars or in miles."
Bayram Annakov, founder of App in the Air, a personal travel assistant app with more than 6 million users, says it is estimated that the total valuation of the top four loyalty programs is in the neighborhood of $70 billion and a very good reason for airlines to keep program members happy. "Airlines are doing everything they can to keep their customers loyal because many are using their loyalty programs or customer base as collateral for loans. This is what we are worth to the investors and to the struggling airlines doing the borrowing," said Annakov who added that now is a great time to get that first-level status with an airline.
While the ongoing debate about whether travelers should hoard their loyalty points or simply "earn and burn" remains a continuing argument, even among experts, most agree that loyalty programs in general still offer good value.
Tim Leffel believes there are advantages to hoarding loyalty points for specific travel events or locations. "Shoot for a minimum of a penny a mile," says Leffel. "If you can get two or three cents a mile, then you're coming out ahead and you should grab it. Conversely, cashing in 30,000 miles for a $150 ticket may not be a good idea. Sometimes it just makes sense to buy the ticket and save the miles for another trip."
While Chris Lopinto agrees that there are times when purchasing a ticket is smarter than redeeming miles ($150 purchase vs. 30,000 points), he does believe that the value of loyalty points is never greater than now. "The value of a point or mile will always go down over time. The airlines always make sure that there is inflation when it comes to the number of miles it takes to redeem for an award. Your miles will never be worth as much as they are today so you should always try to burn them as you earn them because they'll never go up in value."
Bayram Annakov agrees that loyalty programs offer great value and encourages travelers to sign up for newsletters from preferred hotels and airlines. "There are a lot of promotions going on right now, which means we can get a higher tier status for a lower investment," he said, citing a recent letter he received from Hyatt offering a 50% acceleration for some of their destinations, and an American Airlines platinum mileage run. "It's a win-win. If you demonstrate your loyalty to the airlines, they are happy to give travelers something unprecedented, especially during these challenging times."
"Even if you're not a last-minute business traveler, airline loyalty programs are beneficial to the extent that you can get perks, such as free checked bags, better seats, or early boarding, but loyalty takes on many forms," Chris Lopinto added. "It's not just about flying a lot and earning status. It could be using a co-branded airline credit card or anything that offers air travel perks that are valuable to you."
To read the entire story and listen to One-on-One interviews with Tim Leffel, Byram Annakov, and Christ Lopinto, visit ExpertFlyer's blog.
About Tim Leffel
Tim Leffel is an award-winning travel writer, editor, and blogger who is the author of multiple books. His latest is the revised second edition of A Better Life for Half the Price. He serves on the advisory board of the North American Travel Journalists Association and is the North America Conference Director for TBEX, the longest-running conference for travel bloggers. He has lived in four countries and five U.S. states, and his current base is Guanajuato, Mexico. See his regular writings on the Cheapest Destinations Blog. [https://www.cheapestdestinationsblog.com
About App in the Air
App in the Air helps you fly smarter with everything you need to make the most of your flight experience. Know where to find the best food in the airport and how to connect to free wireless internet. Learn the best ways to spend free time and find the best coffee. Don't be late with online check-in and keep your friends and family updated by sharing your flight status. Learn more at https://appintheair.com/.
About ExpertFlyer.com
Each month, ExpertFlyer's One-on-One blog goes face-to-face with the travel industry's leading decision makers to discuss and address topics relevant to many of today's business and frequent travelers.
ExpertFlyer.com was conceived and created by an eclectic team consisting of a veteran elite tier frequent flyer, an airline captain and corporate travel manager, and information technology professionals to deliver a 24/7 real time powerful air travel information service. The company provides its subscribers and corporate travel managers alike with a complete, concise, and efficient way to access the ever-changing details of worldwide air travel information. For more information, please visit expertflyer.com.
Stuck in the middle seat again? Download the free Seat Alerts app from ExpertFlyer and get the window or aisle seat without hassle or frustration.
# # #