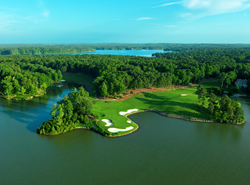 'We truly appreciate being recognized for this level of excellence,' said Mark Lammi, Vice President of Golf Operations at Reynolds Plantation, located on Lake Oconee, between Atlanta and Augusta.
Greensboro, GA (PRWEB) August 28, 2014
Home to one of the most elite collections of golf courses in the United States, Reynolds Plantation has been honored by GOLF Magazine with two courses on its "Top 100 Courses You Can Play" list, and four on its list of "Best Courses Near You."
Leading the list of honors for Reynolds Plantation is the Great Waters course, ranked No. 46 on the Top 100 nationally, with the Oconee course ranked No. 67.
On the "Best Near You" Top 15 list for Georgia, Reynolds Plantation captured four spots, more than any other venue in the South: Great Waters is No. 2, with Oconee Course No. 4, the National Course No. 5 and The Landing No. 11. Together the Lake Oconee gems continue to enrich the reputation of Reynolds Plantation as a premier golf community and preferred golf destination.
The "Best Courses Near You" is a state-by-state compilation of golf courses accessible to guest and/or public play. It is part of GOLF's "Top 100 Courses You Can Play" rankings published in the September 2014 issue and online at http://www.golf.com.
"We truly appreciate being recognized for this level of excellence," said Mark Lammi, Vice President of Golf Operations at Reynolds Plantation, located on Lake Oconee, between Atlanta and Augusta. "The quality and diversity of all six venues to play at Reynolds Plantation gives us one of the greatest collections of golf courses in the country."
All four courses honored have undergone various degrees of renovation the past two years. Greens at The Oconee, designed by Rees Jones, and Tom Fazio's 27-hole gem the National, were converted to Champion bermudagrass, providing superior year round playing surfaces. A complete bunker renovation and landscape beautification was also completed at the National. The Landing, the historic Bob Cupp design that introduced golf to the Lake Oconee region, and Jack Nicklaus's Great Waters also received major enhancements over the past two years.
The golf course projects were part of a multi-million dollar renovation that touched nearly every facet of the award-winning Reynolds Plantation residential golf community, as well as The Ritz-Carlton Lodge, Reynolds Plantation, a AAA Five Diamond resort.
Great Waters will be the venue for the inaugural Big Break Invitational Reynolds Plantation Sept. 30-Oct. 3. The 72-hole tournament features a select field that encompasses past Big Break champions.
Beyond golf, Reynolds Plantation offers an array of recreation opportunities: 374 miles of shoreline along Lake Oconee, Georgia's second-largest lake, is ideal for bass fishing, recreational boating and water skiing; four marinas with complete services; the Lake Club Wellness Center and Peter Burwash International Tennis Center present options for complete fitness activities; dining and casual atmospheres at The Landing Clubhouse, the Plantation Grille and Linger Longer Steakhouse in the Oconee Clubhouse.
Vacation guests at Reynolds Plantation can choose from individual cottages within the private gates, while enjoying a variety of amenities. Accommodations also are available at The Ritz-Carlton Lodge on property.
For more information about Reynolds Plantation, visit http://www.reynoldsplantation.com, or to book a reservation by phone, please call (877) 809-3324 between the hours of 8 am and 6 pm eastern time.
About Reynolds Plantation
Reynolds Plantation, located between Atlanta and Augusta, Ga., is situated along more than 374 miles of Lake Oconee shoreline and features six championship golf courses, dining, swimming pools, pedestrian trails, marinas, a tennis center and a wellness campus. Reynolds Plantation is also home to The Ritz-Carlton Lodge, a 251-room lakefront resort and spa, which was named a 2013 AAA Five Diamond Lodging and 2012 Forbes Four-Star resort. The community is located about an hour and a half from Atlanta's Hartsfield-Jackson International Airport. For more information, visit http://www.reynoldsplantation.com.
Real estate and other amenities are owned by Oconee Land Development Company LLC and/or other subsidiaries and affiliates of MetLife, Inc. (collectively "OLDC"), and are not owned or operated by MetLife. MetLife is not engaged in home building, leasing, resales or brokerage activities at Reynolds Plantation. OLDC may not own homes, condos or cottages; availability varies and is subject to withdrawal without notice. Obtain the Property Report required by Federal law and read it before signing anything. No Federal agency has judged the merits or value, if any of this property. The California Department of Real Estate has not inspected, examined, or qualified this offering. This is not intended to be an offer to sell nor a solicitation of offers to buy real estate in Reynolds Plantation by residents of HI, ID, NY, OR, or any other jurisdiction where prohibited by law. No offering can be made to residents of New York until an offering plan is filed with the Department of Law of the State of New York. Access and rights to recreational amenities may be subject to fees, membership dues or limitations.