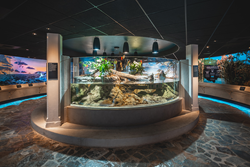 "Our highly engineered acrylic panels allowed Toledo Zoo to transform this space from the traditional zoo or museum experience to one that further engages visitors and embraces multiple senses." Mark Johnson, Vice President of Global Sales and Marketing
GRAND JUNCTION, Colo. (PRWEB) August 06, 2019
Reynolds Polymer Technology, Inc., the world's leader in fully integrated, highly engineered acrylic solutions, announced today that it engineered, installed and supplied 13 acrylic panels for the massive renovation of Toledo Zoo's historic ProMedica Museum of Natural History. Within the museum, Sturgeon Touch Tank, Wetland and Stream exhibits have been fitted with varying sized acrylic panels to complement the enterprising and sensory-focused designs.
"Our highly engineered acrylic panels allowed Toledo Zoo to transform this space from the traditional zoo or museum experience to one that further engages visitors and embraces multiple senses," said Mark Johnson, Vice President of Global Sales and Marketing. "The work we produce truly transports attendees into a new realm of possibilities and education. The ProMedica Museum of Natural History revitalization project is a perfect example of how institutions are evolving to include inventive and cutting-edge design to further merge learning with memorable experiences."
Sturgeon Touch Tank's acrylic panels are designed to be the largest continuous vertical bond of the project measuring nearly 20 feet in length. The rest of the exhibits range in size and include both curved and flat panels. Reynolds Polymer Technology worked closely with the Buehrer Group to ensure cohesiveness and quality across all architecture and engineering plans. A long-standing tradition at the Toledo Zoo, originally built in the 1930s and named the Museum of Science, what is now known as the ProMedica Museum of Natural History underwent renovations beginning in 2017 and was entirely redesigned to create more sensory and tangible experiences. The exhibit, which officially opened on May 31, 2019, allows visitors to take part in immersive ecosystems, participatory and experienced-based attractions that highlight biodiversity and free-roaming animal species such as birds, butterflies and more.
"The final result of the ProMedica Museum of Natural History at the Toledo Zoo revitalization is phenomenal and we are thrilled to have preserved the original architecture and history while still making a participatory and engaging space for our guests," said Jennifer Van Horn, VP Construction and Planning at the Toledo Zoo. "Reynolds' involvement, including design, construction and unmatched mastery of acrylic work, truly set the tone for our vision of the Sturgeon Touch Tank, Wetlands exhibit and Hellbender Stream. These one-of-a-kind activities allow visitors to fully immerse themselves in learning about biodiversity and engaging with unique animals found in our own backyard."
For additional details regarding the Toledo Zoo project, visit toledozoo.org or reynoldspolymer.com/toledozoo. For more information on Reynolds Polymer Technology, visit reynoldspolymer.com.
###
About Reynolds Polymer Technology
Reynolds Polymer Technology, Inc. is the world's leader in fully integrated, highly engineered acrylic solutions. For over 30 years, the company has been building the most innovative and sophisticated turnkey projects for large-scale exhibits, displays, experiences and amenities across the globe in the pool and spa, aquarium, architectural, signage, furniture and scientific sectors. Reynolds Polymer Technology, Inc. has successfully raised industry standards and imagined the impossible for more than 1,900 ground-breaking projects in 57 countries for household brands including CNN, Disney, Nasa and Apple. For additional information, visit reynoldspolymer.com.