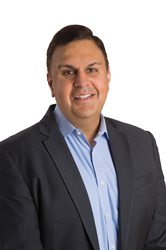 "In his two years at YES, Rezwan's leadership of our sales organization has opened opportunities at virtually all the major customers we engaged with in 2019 and 2020. We look forward to enlisting his vision and drive at a higher organizational level as we continue our company's strong growth."
FREMONT, Calif. (PRWEB) November 19, 2020
YES (Yield Engineering Systems, Inc.), a leading manufacturer of process equipment for semiconductor advanced packaging, life sciences and "More-than-Moore" applications, today announced that it has promoted Rezwan Lateef to President of the company.
Mr. Lateef was formerly Senior Vice President of Sales and Service at YES. In his new expanded role, he will continue to oversee the sales organization (including worldwide reps and distributors) and will also be responsible for building strategic alliances with OEMs and other partners, as well as supporting potential acquisition opportunities.
"In his two years at YES, Rezwan's leadership of our sales organization has opened opportunities at virtually all the major customers we engaged with in 2019 and 2020. We look forward to enlisting his vision and drive at a higher organizational level as we continue our company's strong growth," said Ramakanth Alapati, CEO.
Mr. Lateef has over 15 years' experience in the semiconductor industry and was a key executive in enabling successful exit of two of his prior companies. Prior to YES, he held leadership positions at MKS, NEXX Systems, TEL, Ultratech & Veeco. He holds a BSEE and MSEE from the University of Illinois at Urbana-Champaign and has completed the executive management training program at the Harvard Business School.
About YES
YES (Yield Engineering Systems, Inc.) is a leading manufacturer of high-tech, cost-effective equipment for transforming surfaces, materials and interfaces. The company's product lines include vacuum cure ovens, chemical vapor deposition (CVD) systems, and plasma etching tools used for precise surface modification and thin-film coating of semiconductor wafers, semiconductor and MEMS devices, biosensors, and medical substrates. With YES, customers ranging from startups to Fortune 100 companies can create and volume-produce products in a wide range of markets, including Advanced Packaging, MEMS, Augmented Reality/Virtual Reality, and Life Sciences. YES is headquartered in Fremont, California, with a growing presence globally. For more information, please visit [http://www.yieldengineering.com.