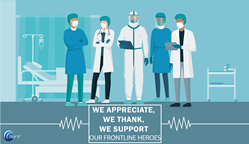 Ann Rhinehart, Director of Clinical Education states, "It is important during these challenging times, that we as a company come alongside our hospital partners to support them in any way we can."
BROOKFIELD, Wis. (PRWEB) April 20, 2020
RFT, a leading provider of wireless safety and security solutions for 33 years in healthcare, senior living, hospitality and education, has recently announced an innovative addition to their current hospital solutions platform. The COVID-19 SAFE PLACE® Rapid Deployment Infant Security Bundle and CODE ALERT® Rapid Deployment Nurse Call Bundle are an alternative wireless security and monitoring solution designed for quick deployment and self-installation.
The SAFE PLACE® Rapid Deployment Infant Security Bundle is simple to use and designed for remote implementation to enable healthcare facilities to be fully operational on an accelerated schedule.
SAFE PLACE® Rapid Deployment Infant Security Bundle components:

Wireless Umbilical Tags – The Umbilical Cord Transmitter is secured to the infant's umbilical cord clam and is worn on the umbilical stump.
Umbilical Wands – Used to activate and deactivate the Umbilical Cord Transmitter.
Touchpad Exit Controllers (TEC) -- The Touchpad Exit Controller (TEC) provides 24-hour perimeter monitoring. The TEC produces a visual and audible alarm whenever an infant transmitter is near an open door. TECs come equipped with Dual Link Antennas and an AC Adapter for power.
Transmitter Tester – Tests the transmitters strength.
The CODE ALERT® Rapid Deployment Nurse Call Bundle is easy and automated providing nurse call assistance at the bedside using either pendants or call stations. Designed as a simplified and remote implementation process, healthcare facilities can be fully operational on an accelerated schedule. This solution is packaged pre-programmed for a simple and quick self-installation that is supported remotely by RFT's Professional Technical Services.
CODE ALERT® Rapid Deployment Nurse Call Bundle components:

Wireless Call Pendants – The wireless call pendant can be worn as a necklace or on a belt clip. Water-resistant for safety in the shower.
Notification Station (Control Station) – Easy-to-use software accessible through a touch-screen monitor.
Paging System – Instant alarm notification to mobile staff via pagers.
Nurse Call – Stationary nurse call devices for patient bedside and restrooms.
Repeaters & Network Coordinator – Wireless calls are sent through Repeaters, the Network Coordinator, to the Central Server.
Ann Rhinehart, Director of Clinical Education states, "It is important during these challenging times, that we as a company come alongside our hospital partners to support them in any way we can. Realizing their nurse-patient communication and infant security needs still need to be met in these alternative spaces, we wanted to offer solutions to meet these needs that were both affordable and a temporary installation that could be easily decommissioned once this pandemic is behind us."
About RFT
RFT is a leading provider of safety and security solutions for the healthcare, hospitality, and education markets, leveraging radio frequency identification (RFID) and real-time locating system (RTLS) technologies. The RFT family brand includes CODE ALERT® call and wander management systems, SAFE PLACE® patient security systems, SENSATEC® fall management products, HELP ALERT® staff duress systems, and EXACTRACK® equipment location systems. With more than 10,000 installations,
RFT was the first in the industry to offer remote monitoring, RF consulting, 24/7 technical support by internal staff specialists, and a nationwide service team.