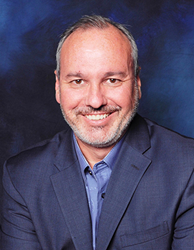 Rick has a great vision and strong understanding of animal health, pet insurance and pet product marketplaces. This combined with his background in human health insurance gives him a unique perspective and tremendous insight into the future of our industry." Kristen Lynch, Executive Director, NAPHIA
Phoenix, AZ (PRWEB) September 29, 2017
Rick Faucher of IHC Specialty Benefits (IHC SB), a member of The IHC Group (IHC) was elected President of the North American Pet Health Insurance Association (NAPHIA) by its Board of Directors. Mr. Faucher is President of IHC SB's Pet Health division, President of PetPartners, Inc., oversees the company's pet health enterprise, which includes PetPlace.com.
"Rick has a great vision and strong understanding of animal health, pet insurance and pet product marketplaces," remarked Kristen Lynch, Executive Director of NAPHIA. "This combined with his background in human health insurance gives him a unique perspective and tremendous insight into the future of our industry."
As President, Mr. Faucher will oversee NAPHIA's key initiatives, board and sub-committees activities which include veterinary relations, research and benchmarking, membership growth, anti-fraud and regulatory advancements and industry events such as the Leadership Forum for member organizations.
"What an amazing privilege it is to serve as President of NAPHIA, a truly rare and outstanding environment that is comprised of executive leadership from competing companies," said Mr. Faucher. "Our rapid growth and establishment is a testament to this unique collaboration, all working toward common causes of improved pet health and support for pet parents. Our membership represents companies from the USA, Canada and UK, and I look forward to serving them and continuing to advance the goals of pet health insurance industry through new initiatives and partnerships."
According to NAPHIA's State of the Industry report released this past July, close to 1.8 million pets are insured in North America. The market shows robust growth year over year with an annual average growth rate of 12%.
For more information on pet health insurance, please contact Rick Faucher at 602-395-7083 or Rick.Faucher(at)IHCGroup(dot)com.
#
About The IHC Group
Independence Holding Company (NYSE: IHC) is a holding company that is principally engaged in underwriting, administering and/or distributing group and individual specialty benefit products, including disability, supplemental health, pet, and group life insurance through its subsidiaries since 1980. The IHC Group owns three insurance companies (Standard Security Life Insurance Company of New York, Madison National Life Insurance Company, Inc. and Independence American Insurance Company), and IHC Specialty Benefits, Inc., a technology-driven insurance sales and marketing company that creates value for insurance producers, carriers and consumers (both individuals and small businesses) through a suite of proprietary tools and products (including ACA plans and small group medical stop-loss). All products are placed with highly rated carriers.
About NAPHIA
The North American Pet Health Insurance Association (NAPHIA) is comprised of reputable pet health insurance (PHI) organizations from across Canada and the United States. NAPHIA's membership makes up over 99% of all pet health insurance coverage in effect in North America.
As a coalition, NAPHIA works to advance and grow the PHI industry through proactive research, data sharing, benchmarking initiatives, advocacy efforts, strategic partnerships, resource sharing and the dissemination of information to collaboratively address challenges and opportunities.
For more information about NAPHIA, visit http://www.naphia.org, or contact: Katherine Hardy, Communications Coordinator at communications(at)naphia(dot)org or call 877-962-7442.