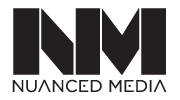 Tucson, AZ (PRWEB) August 25, 2013
Nuanced Media is going global! The digital marketing and web design firm recently signed its first international client, an Australian firm named Tidy Club. Based out of Perth, the company specializes in compiling and distributing information for athletic clubs through online software.
The Nuanced Media web development team has been hired to create a WordPress calendar plugin that will allow users of the Tidy Club website to view events that link to additional description pages. The club found Nuanced Media through a similar WordPress plugin designed for another client.
Nuanced Media has broadened its development in WordPress plugins to help draw traffic to client websites while providing new value for their users. This has helped boost SEO Phoenix firms especially, many of which are looking to increase their user experience. To learn more about how Nuanced Media helps clients, please follow this link.
About Nuanced Media
Nuanced Media is a digital marketing and graphic design firm. The company specializes in strategic, multilayer marketing campaigns and efficiently crafted, user-friendly websites. Based in Tucson, the company has a variety of clients throughout Arizona, California, and Texas. For more information, please view Nuanced Media.