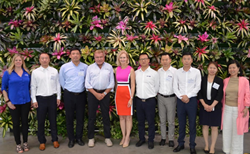 "Our continued success in China speaks to the quality of our products."
PORT OF PALM BEACH, Fla. (PRWEB) October 15, 2019
RGF Environmental Group's (http://www.rgf.com) top performing China sales team members along with RGF's #1 China distributor, Alphay, traveled to the United States from Beijing to attend a training and planning seminars at RGF's headquarters in the Port of Palm Beach, Florida. Sharon Rinehimer, Executive Vice President, and Astrid von Oetinger, International Sales Manager, led the training and seminars in RGF's Shark Tank training facility.
CEO/President, Ron Fink, kicked off the meeting with excitement that RGF's Made in the USA products are still in high demand in China and sales remain robust despite the China imposed tariffs. "Our continued success in China speaks to the quality of our products," states Fink.
The sales team was trained on RGF's comprehensive line of indoor air quality products ranging from the revolutionary patent pending HALO-LED™, the industry's first LED in-duct air purification system that is mercury-free and zero ozone compliant to RGF's full line of FDA 510(k) compliant air purification systems designed for use in hospitals and healthcare facilities.
Sharon Rinehimer, Linda Liu, General Manager of the China Representative Office, and RGF's Executive Team discussed and presented strategies for maintaining success in a continually changing global market.
The team toured RGF's 106,000 square foot vertical and environmentally friendly manufacturing plant, warehouse and office facility where RGF's superior products are designed, engineered, manufactured, and assembled.
"With an eye on the future, RGF continues to optimize its ISO 9001 manufacturing facility to ensure it continues to be in the best position to grow with the global demand for indoor air quality products," says Walter Ellis, RGF's Executive Vice President/General Manager.
After the meetings, the team enjoyed a trip to Key West, including a chartered fishing trip on the beautiful blue waters of the Gulf of Mexico and enjoyed their catch which was prepared at a favorite local restaurant!
About RGF Environmental Group, Inc.
RGF manufactures over 500 environmental products and has a 35+ year history of providing the world with the safest air, water, and food without the use of chemicals. RGF is an ISO 9001:2015 certified research and innovation company, holding numerous patents for air purifying devices, food sanitation systems and wastewater treatment systems. Situated in the heart of the Port of Palm Beach Enterprise Zone, RGF Headquarters span 7.5 acres, with 106,000 square feet of totally vertical and environmentally friendly manufacturing, warehouse and office facilities allowing the company to provide the highest quality and best engineered products on the market.
For more information, go to http://www.rgf.com or contact RGF Environmental Group, Inc. 1101 West 13th Street, The Port of Palm Beach Enterprise Zone, Riviera Beach, Florida 33404 USA Tel: (561) 848-1826 or (800) 842-7771; Fax (561) 848-9454.