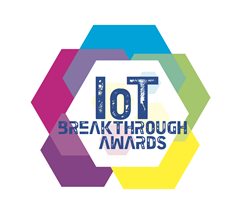 "We are committed to pushing innovation in the connected home category while also maintaining a great user experience for our customers" - Nitish Singh, vice president of product and marketing, Rheem.
LOS ANGELES (PRWEB) February 13, 2019
IoT Breakthrough, an independent organization that recognizes the top companies, technologies and products in the global Internet-of-Things (IoT) market, today announced Rheem's EcoNet® Smart Thermostat, the latest innovation in the company's EcoNet enabled product line, as the winner of the "Smart Heating and Cooling Product of the Year" award in the global 2019 IoT Breakthrough Awards program.
The mission of the IoT Breakthrough Awards program is to recognize innovators, leaders and visionaries from around the globe in a range of IoT categories, including, Connected Home and Home Automation, Industrial and Enterprise IoT, Smart City technology, Connected Car, and many more. This year's program attracted more than 3,500 nominations from companies all over the world.
"While the smart home category has experienced another banner year of growth and innovation overall, industry innovation among smart thermostat solutions specifically has been mostly stagnant," said James Johnson, managing director at IoT Breakthrough. "Rheem bucked this trend, delivering a 'break through' solution with their EcoNet Smart Thermostat that uniquely integrates and optimizes the performance of smart air and smart water systems on a single interface. We are thrilled to see Rheem's innovation and success in the smart home category, and we congratulate them on their 2019 IoT Breakthrough Award."
"We are committed to pushing innovation in the connected home category while also maintaining a great user experience for our customers," said Nitish Singh, vice president of product and marketing, Rheem. "Our EcoNet Smart Thermostat and the entire EcoNet line-up delivers on that commitment, and we are proud to receive this industry recognition and 2019 IoT Breakthrough Award designation."
The EcoNet Smart Thermostat uses advanced sensor technology to actively monitor integrated Rheem smart heating, cooling and water heating equipment. It delivers both routine maintenance notifications, such as filter replacement reminders, as well as critical service alerts (with diagnostic details to expedite repairs) when the equipment requires attention.
The ultra-thin programmable thermostat has a full-color glass capacitive touchscreen and is equipped with modern features homeowners expect: local weather, one-touch away mode, motion activation and third-party integrations, including voice control with Amazon Alexa.
The EcoNet Smart Thermostat was purposefully designed to streamline installation, set-up, and service for contractors and plumbers: the integrated bubble level and tool-free wire terminals make wall mounting and wiring easier than ever; the thermostat automatically detects all connected equipment and configures itself to optimize system performance; simple system initialization shortens the commissioning process, and detailed diagnostics from service alerts improve service call efficiency.
About IoT Breakthrough
IoT Breakthrough, part of the Tech Breakthrough Awards organization, is devoted to honoring excellence in Internet-of-Things technologies, services, companies and products. The IoT Breakthrough Awards program provides a forum for public recognition around the achievements of IoT companies and products in categories including Connected Home and Home Automation, Connected Car, Industrial IoT (IIoT) and Smart City, Consumer IoT and more. For more information visit IoTBreakthrough.com.
About Rheem
Founded in 1925, Rheem® innovates all-new ways to deliver just the right temperature while saving energy, water and supporting a more sustainable future. Today, Rheem's products are available in more than 50 countries. PalomaCo., Ltd. ® of Nagoya, Japan, acquired the iconic Rheem brand in 1988, and today the company's portfolio of premium brands include Rheem®, Raypak®, Ruud®, Eemax®, Richmond®, Splendid®, Solahart® and EverHot™ as well as commercial refrigeration brands Russell®, Witt®, ColdZone®and Kramer®, which are part of the Heat Transfer Products Group (HTPG®) division.