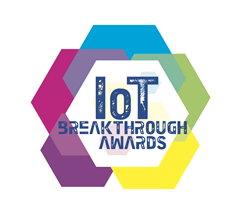 Rheem is committed to setting the industry standard in engineering products that not only meet and exceed consumer expectations, but remain contractor friendly in terms of installation and service.
LOS ANGELES (PRWEB) January 09, 2020
IoT Breakthrough, a leading market intelligence organization that recognizes the top companies, technologies and products in the global Internet-of-Things (IoT) market, today announced that Rheem®, a leading global water heating and HVAC manufacturer, has been selected as the winner of the "Smart Heating and Cooling Product of the Year" award for its EcoNet® Zoning System for the second consecutive year .
The EcoNet® Zoning System is redefining residential HVAC with independent and flexible comfort control of up to six separate zones. Designed to optimize the performance of Rheem smart air equipment, the new Zoning System and EcoNet Smart Thermostat include intelligent and flexible management features important to both homeowners and contractors. The system's proprietary communication protocol streamlines installation and service, while providing homeowners with an intelligent energy management system that delivers unparalleled performance, advanced comfort control, and maximum efficiency.
"The EcoNet® Zoning System goes well-beyond standard smart thermostat features, allowing users to add EcoNet Zoning System controls and dampers to enjoy customized comfort throughout your home," said Chris Day, Vice President of Product Strategy and Engineering, Rheem. "Rheem is committed to setting the industry standard in engineering products that not only meet and exceed consumer expectations, but remain contractor friendly in terms of installation and service. We are extremely thankful and proud to be winning this award for the second year in a row. This fact validates our continued drive and commitment to innovate in this space."
The mission of the IoT Breakthrough Awards program is to recognize the innovators, leaders and visionaries from around the globe in a range of IoT categories, including Industrial and Enterprise IoT, Smart City technology, Connected Home and Home Automation, Connected Car, and many more. This year's program attracted more than 3,700 nominations from companies all over the world.
"As automation continues to gain traction in the HVAC industry and consumer demand increases for smart products that can be personalized to their environments, the amount of intelligence built-in to HVAC equipment will continue to rise," said James Johnson, managing director at IoT Breakthrough. "Rheem has both set the standard and set themselves apart in 2020 by continuing to innovate and expand in the crowded smart thermostat arena, and we extend a hearty congratulations to Rheem for their well-deserved 2020 IoT Breakthrough Award."
Rheem's EcoNet® Zoning System introduces several significant engineering "breakthroughs" in residential zoning, including an Intelligent Bypass Option that functions as a virtual zone in the system. Rheem's patent-pending Intelligent Bypass transcends the industry in terms of performance and equipment protection and is an innovative solution for airflow noise control allowing the system to run instead of shutting down.
The brain of Rheem's Zoning System is the EcoNet® Smart Thermostat, which serves as the primary thermostat for the home and for the first zone. Individual EcoNet Zone Controls serve as the thermostat in zones two through six. Featuring the same compact design and intuitive interface as the smart thermostat, the controls display the temperature and allow the user to customize ideal comfort in the specific zone. Built-in features like custom air flow noise limits, continuous fan by zone, and multiple humidity sensing options, give contractors advanced technology options to ensure the system delivers the performance homeowners expect.
In addition, the EcoNet companion app provides a seamless experience across interfaces, while intuitive micro-interactions make routine tasks quick and simple without compromising on flexibility or customizability of settings. Real-time system monitoring of airflow and static pressure help protect critical equipment components and optimize equipment performance better than traditional zoning solutions. Leveraging the latest in sensor technology, the thermostat monitors each zone 24x7 and delivers both routine maintenance reminders and critical service alerts via text or to the App when the equipment requires attention.
About IoT Breakthrough
Part of Tech Breakthrough, a leading market intelligence and recognition platform for global technology innovation and leadership, the IoT Breakthrough Awards program is devoted to honoring excellence in Internet-of-Things technologies, services, companies and products. The IoT Breakthrough Awards program provides a forum for public recognition around the achievements of IoT companies and products in categories including Connected Home and Home Automation, Connected Car, Industrial IoT (IIoT) and Smart City, Consumer IoT and more. For more information visit IoTBreakthrough.com.
About Rheem
Founded in 1925, Rheem® innovates all-new ways to deliver just the right temperature while saving energy, water and supporting a more sustainable future. Today, Rheem's products are available in more than 50 countries. PalomaCo., Ltd. ® of Nagoya, Japan, acquired the iconic Rheem brand in 1988, and today the company's portfolio of premium brands include Rheem®, Raypak®, Ruud®, Eemax®, Richmond®, Splendid®, Solahart® and EverHot™ as well as commercial refrigeration brands Russell®, Witt®, ColdZone® and Kramer®, which are part of the Heat Transfer Products Group (HTPG®) division.