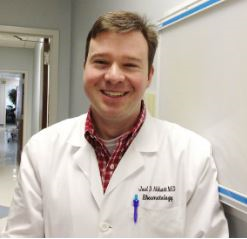 BIRMINGHAM, Ala. (PRWEB) November 08, 2018
Dr. Abbott completed his undergraduate from Birmingham-Southern College where he graduated Summa Cum Laude with a Bachelors of Science in Mathematics. He then earned his Medical Degree in 2000 from The University of South Alabama, College of Medicine, giving him nearly two decades of experience in his field. He then completed his internal medicine residency with the Carraway Methodist Medical Center where he was named Chief Medical Resident. Wanting to further his training he completed his Clinical Immunology and Rheumatology fellowship with the University of Alabama at Birmingham School of Medicine.
Dr. Abbott is dual certified in Rheumatology and Internal Medicine by the American Board of Internal Medicine. To stay up to date in his field he remains a professional member of the American College of Rheumatology, American Medical Association, and the American College of Physicians. He currently practices with the Rheumatology Associates and is affiliated with St. Vincent's Health Care System in Birmingham.
Rheumatology is a branch of medicine devoted to the diagnosis and therapy of rheumatic diseases. Rheumatologists deal mainly with immune-mediated disorders of the musculoskeletal system, soft tissues, autoimmune diseases, vasculitides, and heritable connective tissue disorders. Many of these diseases are now known to be disorders of the immune system. Rheumatology is considered to be the study and practice of medical immunology.
Dr. Abbott attributes his success to God, his supportive wife and family, and extraordinary teachers and mentors. He enjoys spending time with his wife, church related activities, and mission work. His past times include fishing, reading, and college football.
Learn More about Dr. Joel D. Abbott through his findatopdoc profile, https://www.findatopdoc.com/doctor/8123881-Joel-Abbott-rheumatologist-Birmingham-Alabama-35205 or through his profile with Rheumatology Associates http://www.alrheumatology.com/physicians/joel-abbott He can be contacted at 205.933.0320, and is located in Birmingham, AL.
FindaTopDoc.com is a digital health information company that helps connect patients with local physicians and specialists who accept your insurance. Our goal is to help guide on your journey towards optimal health by providing you with the know how to make informed decisions for you and your family.