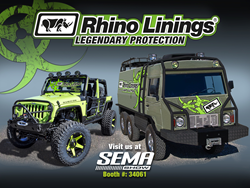 All of our featured vehicles at the 2016 SEMA Show effectively demonstrate various Rhino Linings product applications, far beyond the traditional truck bed liner that started it all.
SAN DIEGO, Calif. (PRWEB) October 27, 2016
Rhino Linings Corporation (http://www.rhinolinings.com) is poised to unveil two wild, off-road vehicles that are sure to turn heads at this year's SEMA® show in Las Vegas, Nov. 1-4, 2016. Both vehicles, flaunting Rhino Linings legendary protective coatings, will be featured in the Rhino Linings booth #34061 in the Las Vegas Convention Center's South Hall.
Rhino Linings teamed up with builder Doetsch Off-Road to design a ferocious, one-of-a-kind Jeep® Wrangler dubbed "Infected." This apocalyptic-themed off-road ride is built to conquer the extreme outdoors. The entire interior tub of the Wrangler will be coated, sealed, and armored with Rhino Linings products including Rhino Hybrid™ lining system, a polyurea-based system that offers superior impact, abrasion, corrosion and chemical resistance. Other armored sections include the front and rear JCR Offroad bumpers, JCR Offroad rock sliders, Rugged Ridge Spartan front plastic grille, inner wheel wells, and other exterior parts and accessories.
The other vehicle featured in the Rhino Linings booth will be a larger-than-life, 6-wheel Pinzgauer 712 Austrian military vehicle. This custom-built tank is armored by internal and external steel tube roll cages and entirely coated inside and out with Rhino Linings protective coating in an olive drab green custom color for the ultimate, indestructible protection. A 5-point harness system and seating for ten ensures the safety of passengers when the end times are here. To top it off, the Pinzgauer comes fully equipped with a DJ booth, XM Satellite Radio, and amplifier with stadium speakers that fold out of the roof (because entertainment could become scarce at world's end).
"We're thrilled to unveil our disaster-proof vehicles at SEMA this year," stated Elaine Luttrell, vice president of sales operations and marketing at Rhino Linings Corporation. "All of our featured vehicles at the 2016 SEMA Show effectively demonstrate various Rhino Linings product applications, far beyond the traditional truck bed liner that started it all."
In addition to the two vehicles featured in the Rhino Linings booth #34061, the company's other vehicle collaborations will make appearances throughout the SEMA show hall, including an extensive collection of Ford, Chevrolet, GMC, Toyota and Ram truck builds.
Rhino Linings sprayed-on liners are premier protective coating solutions for a variety of applications. Although Rhino Linings Corporation started the sprayed-on truck bed liner industry over 28 years ago, Rhino® products are now extensively used to protect bumpers, grilles, fender flares, rocker panels, wheel wells, roll cages, as well as vehicle interiors and entire exteriors from scratches, scruffs, dents, rust and chemical damage. The tough, impact absorption properties of Rhino Linings coatings also work to reduce noise from road vibrations or impact.
Visit Rhino Linings at the 2016 SEMA show at booth #34061 to learn more about Rhino Linings products or how to become an authorized Rhino Linings applicator.
About SEMA
The SEMA Show is the premier automotive specialty products trade event in the world. It draws the industry's brightest minds and hottest products to one place, the Las Vegas Convention Center. In addition, the SEMA Show provides attendees with educational seminars, product demonstrations, special events, networking opportunities and more. The SEMA Show takes place November 1 - November 4, 2016 at the Las Vegas Convention Center located at 3150 Paradise Road, Las Vegas, NV 89109.
About Rhino Linings Corporation
Rhino Linings Corporation, established in 1988 and headquartered in San Diego, California, is a privately-held corporation and world leader in protective coatings and linings. Products manufactured and distributed by Rhino Linings Corporation include polyurethane, polyaspartic and epoxy coatings, concrete coatings, spray foam insulation and sealants, and interior and exterior stucco. Rhino Linings Corporation has a global retail and industrial applicator network consisting of more than 2,000 independently owned and operated businesses in almost 80 countries. For more information about Rhino Linings Corporation, call 858-450-0441 or visit http://www.rhinolinings.com.