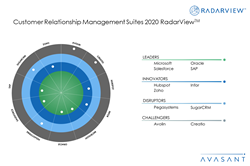 Modular availability, connectors, app ecosystems, and as-a-service commercial models have made CRM suite adoption easier. The supplier landscape has been evolving quickly, and with the pandemic reinforcing urgency for digitization and automation of CRM processes, we expect accelerated adoption.
LOS ANGELES (PRWEB) November 23, 2020
The CRM market is changing. Today most CRM suite vendors are offering modular sales, customer service, and marketing functions, enabling organizations to pick solutions that are best tailored to meet their needs. They are also expanding their offerings with plug-and-play apps, which enables enterprises to customize and extend the functionality of CRM suites. Finally, an array of ready-to-use connectors is enabling easy integration. These factors have boosted adoption of CRM suites, which saw a 13% growth rate in 2020.
These and other trends are explored in our new Customer Relationship Management Suites 2020 RadarView™ report, a comprehensive study of enterprise CRM suite adoption trends and the vendor landscape. The report helps companies identify the right solutions to improve their customer relationships. It also offers detailed capability and experience analyses of CRM vendors to assist enterprises in identifying strategic partners for their customer relations transformation journeys. The report ranks the leaders, innovators, disruptors, and challengers in this space.
Avasant evaluated 20 vendors offering CRM suites, using a rigorous methodology against the dimensions of product maturity, enterprise adaptability, and innovation roadmap. Of those 20 vendors, we recognize 11 that have brought the most value to the market during the past 12 months.
The report recognizes CRM suite vendors in four categories:

Leaders: Microsoft, Oracle, Salesforce, SAP
Innovators: Hubspot, Infor, Zoho
Disruptors: Pegasystems, SugarCRM
Challengers: Avolin, Creatio
"Forward-thinking companies have long used CRM suites," said Avasant Research Leader Saurabh Verma. "Now, modular availability, connectors, app ecosystems, and as-a-service commercial models have made adoption easier than before. The supplier landscape has been evolving quickly. And with the pandemic reinforcing the urgency for digitization and automation of CRM processes, we expect to see accelerated adoption."
Key findings from the report include:

Demand for CRM suites has increased due to the need for low-touch operations that COVID-19 has created.
Availability of CRM suites as a standalone product and ready-to-use connectors is facilitating enterprise adoption.
Small and midsized businesses are now at the forefront of CRM suite adoption, as the SaaS model enables low-cost implementation.
CRM suite vendors are leveraging AI technologies to automate judgment-intensive processes.
CRM suites are enabling robust process automation solutions via acquisitions, partnerships, and in-house development.
CRM suites are leveraging virtual assistants to enhance clients' experience.
The full report also features detailed RadarView profiles of the 11 CRM suite vendors, along with their solutions, offerings, experience in deploying financial management solutions.
About Avasant:
Avasant is a leading management consulting firm focused on translating the power of technology into realizable business strategies for the world's largest corporations. Specializing in digital and IT transformation, sourcing advisory, global strategy, and governance services, Avasant prides itself on delivering high-value engagements through industry-focused innovation and flexible client-based solutions.
Our seasoned professionals have an average of 20 years of industry-honed expertise, having conducted 1000+ engagements in over 50 countries. Avasant's next generation consulting and advisory methods have made it the top-ranked firm in its class, with recognition from numerous organizations, including: Vault, NOA, IAOP, and Wall Street Journal.
Avasant's engagement in the global market has inspired a strong commitment to community and purpose. Avasant Foundation supports technology and skill development programs to create employment opportunities for youth across Africa, Asia, the Caribbean and Latin America.
For more information, visit https://www.avasant.com.
Follow news, photos and video on Twitter at http://www.twitter.com/avasant, Facebook at https://www.facebook.com/avasantllc, and LinkedIn at https://www.linkedin.com/company/avasant/.