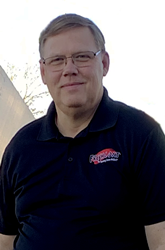 Fresh Coat Painters is unique because of our approach to customer service. We only hire high-quality, background-checked painters and we guarantee our clients' satisfaction with a one-year workmanship guarantee. I am looking forward to changing the painting experience in this market. -Richard Jesuit
PLAINFIELD, Ill. (PRWEB) January 05, 2021
Experienced business leader Richard Jesuit is pleased to announce the launch of his new business, Fresh Coat Painters of Plainfield.
Fresh Coat Painters of Plainfield offers painting services including interior and exterior painting, sealing and staining; popcorn ceiling and wallpaper removal; faux painting; agricultural painting; garage epoxy; drywall repair; gutter cleaning and more in Plainfield, Yorkville, Shorewood, Bolingbrook, Downers Grove and Naperville. Fresh Coat Painters has a national product partnership with Sherwin-Williams®, so products are guaranteed to be high quality.
"Fresh Coat Painters is unique because of our approach to customer service. We only hire high-quality, background-checked painters and we guarantee our clients' satisfaction with a one-year workmanship guarantee. I am looking forward to changing the painting experience in this market," Jesuit said.
As part of the company's commitment to service, Fresh Coat Painters has a 24/7 receptionist, online scheduling and free detailed quotes, and they only use high-quality materials. Fresh Coat Painters also offers a 3-3-3 customer service pledge, which means calls will be answered by a live person within three rings, a quote will be delivered within three days (customer schedule permitting) and the job will be started within three weeks.
Jesuit has a bachelor's degree in business from Dominican University and started his career running funeral homes. For the last 25, he has worked in the car business, doing everything from individual and commercial sales to managing departments and business leadership. His brother, an experienced painter who has refurbished Painted Ladies in Chicago and Oak Park, will be running the painting operations while Jesuit manages the business and client relations.
"I had done everything there was to do in the car business other than own the dealership and that wasn't a direction I wanted to go. My philosophy was always that I was there to help people buy a car – not sell a car – so I was thinking about opening the kind of business that would have an emphasis on that kind of customer service philosophy," Jesuit said. "My brother and nephew have been painting for more than 30 years, so I talked to them about the franchises in the area and they recommended Fresh Coat Painters for the reputation, process and overall business model. I'm looking forward to bringing all of that to my community."
Fresh Coat Painters was founded in 2004 as part of Strategic Franchising Systems. Since 2015, Fresh Coat Painters has been included in the Bond's Top 100 and named to Entrepreneur Magazine's Franchise 500 list. Fresh Coat Painters is also part of the International Franchise Association, the Small Business Association's Franchise Registry, VetFran and Minority Fran. Fresh Coat Painters of Plainfield is bonded and insured.
For more information about Fresh Coat Painters of Plainfield, call 630-827-9418, email RJesuit@FreshCoatPainters.com or visit http://www.FreshCoatPainters.com/Plainfield.