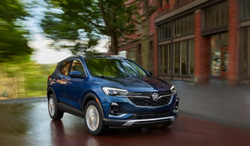 WACO, Texas (PRWEB) March 19, 2021
Known around town as the "people you can count on," the Richard Karr Motors dealership in Central Texas is celebrating its 22nd anniversary this month. The family-owned dealership has been serving the greater Waco area for more than two decades and is offering major savings this month as a thank you for the dedication of its customers over the years. In honor of the dealership's celebration, Richard Karr Motors is offering a lineup of sales and incentives during its 22nd Anniversary Sales Event. Prospective buyers can take advantage of sales offers through March 31.
The Richard Karr Motors is highlighting fan-favorite Buick and GMC models during its 22nd Anniversary Sales Event. From now through the end of the month qualifying shoppers looking for a new fully loaded pickup can save up to $8,000 on select 2021 GMC Sierra Texas Edition SLT Premium Plus Package models at the Waco dealership. This offer includes a $1,750 Richard Karr Motors dealership discount and $6,250 GMC Consumer Cash.
Individuals in search of a compact SUV may be eligible to save up to $6,500 on select 2021 GMC Terrain models or up to $3,500 on select 2021 Buick Encore GX variants at Richard Karr Motors. These savings available for the GMC Terrain include a $2,000 Richard Karr Motors dealership discount and $4,500 GMC Consumer Cash. Those looking at a Buick Encore GX can combine an $800 Richard Karr Motors discount with $2,700 Buick Consumer Cash.
Available 22nd Anniversary Sales Event offers are subject to additional terms and conditions.
Anyone can view entire lineup of available 22nd Anniversary Sales Event offers on the Richard Karr Motors website, richardkarr.com. The Central Texas dealership is located at 900 W Loop 340 in Waco, TX, and is open Monday through Saturday. Members of the Richard Karr Motors sales team are available by phone to assist with any questions, 254-776-1111.