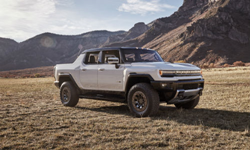 WACO, Texas (PRWEB) October 27, 2020
The 2022 Hummer EV, the first all-electric supertruck, will be joining the lineup of vehicles at Richard Karr Motors in the fall of 2021. The highly anticipated truck has been causing a buzz in the automotive world since the first word of the vehicle caught wind. Now after its full debut and reveal, Richard Karr Motors has opened its books and is taking reservations for the 2022 GMC Hummer EV.
The first-ever GMC Hummer EV is set for a fall debut next year and will bring next-level technology and a revolutionary design. This GMC truck's lineup will include four model options, with each variant releasing at different times.
The Hummer EV Edition 1 will offer an estimated driving range of more than 350 miles and will deliver 1,000 horsepower on the road. The second Hummer EV variant, the Hummer EV3X, will deliver up to 800 horsepower and offer more than 300 miles in driving range. This second Hummer edition will arrive in dealerships in fall 2022.
Reservations for the first release of the Hummer EV Edition 1 are currently full, however interested customers are able to reserve the Hummer EV3X and be added to the Edition 1 waitlist. Richard Karr Motors is currently accepting reservations via phone and online.
Individuals looking for more information on the first-ever Hummer EV are encouraged to visit the Richard Karr Motors blog, richardkarr.com/blog. Members of the Richard Karr Motors team can be reached by phone, 254-776-1111, any time during normal business hours to answer questions about the Hummer EV and reservation process. The Richard Karr Motors sales department is open Monday through Friday from 7 a.m. to 6 p.m. and from 8 a.m. to 5 p.m. on Saturdays.