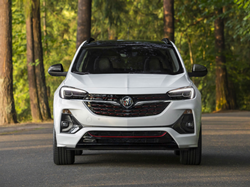 WACO, Texas (PRWEB) December 12, 2020
The holiday season has become a little sweeter around Waco as the Richard Karr Motors team unveiled its Buick Employee Pricing for Everyone sale. The dealership is cutting prices on most new Buick SUV models and bringing asking prices down to the employee level. Most 2020 and 2021 Buick SUVs are included as a part of this offer, with the exception of 1SV trims.
Select 2020 and 2021 Buick Encore, Encore GX, Envision and Enclave models are taking part in this year's sale. Total savings on each model is dependent on model, trim level and package. The Employee Pricing for Everyone offer is available now through Jan. 4.
The compact Buick Encore is small but mighty. This nimble SUV makes room for up to five passengers and 18.8 cubic feet of standard cargo space. The Encore will appeal to Waco drivers looking for a fun-to-drive compact SUV. Those looking for a sportier variation of the Encore will be drawn to the available Buick Encore GX.
The Buick Envision and Enclave will attract the families of Waco with their spacious interiors and ample passenger space. The Buick Envision seats five passengers and boasts 26.9 cubic feet of standard cargo space. The larger Enclave is fitted with three rows of seating to make room for up to seven adult passengers.
Richard Karr Motors offers the latest Buick models and SUVs in its inventory and the Employee Pricing for Everyone is just the start of the available sales and incentives at the dealership.
Anyone can view the lineup of available models and offers at Richard Karr Motors by visiting the dealership's website, richardkarr.com. Those with specific inquiries are encouraged to contact a member of the dealership staff directly by calling 254-776-1111. Richard Karr Motors is located at 900 W Loop 340, Waco, TX 76712 and is open Monday through Saturday.